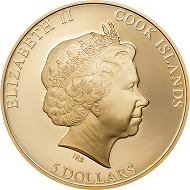 [bsa_pro_ad_space id=4]
August 3, 2017 – Small but charming, that's the hummingbird. It is at the heart of the new edition in the popular Shades of Nature series, designed by Coin Invest Trust for the Cook Islands. The plumed pipsqueak is an animal of superlatives. It is the only bird which can fly backwards and its up to 80-beats-per-minute fast wing beat is barely visible to the human eye. It can hover in mid-air in order to drink the nectar from the flower with its long, thin beak in its tropical habitat.
Cook Islands / 5 Dollars / Silver .999 / 25g / 38.61mm / Mintage: 2000.
The obverse features the Ian Rank-Broadley portrait of Elizabeth II as well as her name, the name of the issuing nation, and the nominal value.
In the characteristic style of the series, the reverse displays a silver hummingbird on a gilded coin surface. Engraved above are the name of the series, SHADES OF NATURE, and the year of issue in convex and concave lettering.
Female purple-throated carib feeding at a flower. Photo: Charlesjsharp / Wikimedia Commons / CC BY 3.0
The hummingbird, whose earliest relatives existed already 30 million years ago, is also an expert in courtship. The only 10 cm big male specimen of the Anna's hummingbird, for instance, nosedives with close to 100 km to impress its female. To do all that, the tiny heart beats 400 times every minute.
Of great beauty is the metallic shine of the hummingbird's iridescent plumage. The iridescent effect of each individually accented feather is stunningly captured on the hummingbird silver coin thanks to the exceptionally fine laser engraving of the coin die. After Bee (2014), Butterfly (2015), and Fighting Fish (2016), the Hummingbird is minted in an unparalleled three-dimensional and true-to-life quality thanks to smartminting© technology. You can almost feel the breath of wind of its wing beat.
The coins were minted by B. H. Mayer's Kunstprägeanstalt GmbH. Collectors can purchase the issues through specialty dealers.
Please find more information on these coins here.
This is the website of Coin Invest Trust.
To inform about and to protect the tiny animal, The Hummingbird Society has been founded. This is the Society's website.
And this YouTube films shows you what happens when you put a hummingbird in a wind tunnel.