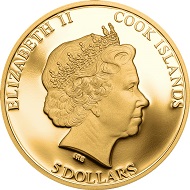 [bsa_pro_ad_space id=4]
May 19, 2016 – Designed by Coin Invest Trust for the Cook Islands, the latest issue in the popular Shades of Nature series is dedicated to the Siamese fighting fish. Just like its predecessors, bee and butterfly, this coin displays a remarkable wealth of detail thanks to laser technology. With the use of smartminting© technology the coin reaches new heights in the three-dimensional and lifelike depiction of the fish, which seems to be positively jumping out of the coin.
Cook Islands / 5 Dollars / Silver .999, partly gold coated / 25 g / 38.61 mm / Mintage: 2000.
The obverse displays the Ian Rank-Broadley portrait of Elizabeth II as well as her name, the title of the issuing nation and the nominal value.
In the style of the series the reverse features silver Siamese fighting fish on a golden field. Above, the name of the series, SHADES OF NATURE, and the year of issue.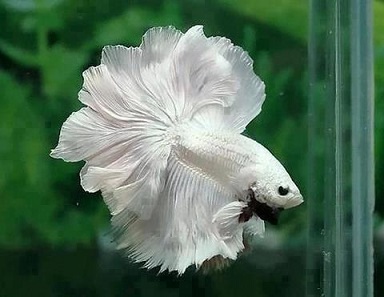 White male Siamese fighting fish. Photograph: Kingloovr / https://creativecommons.org/licenses/by-sa/3.0/deed.en
The Siamese fighting fish (Betta splendens) is as imposing as it is combative. Native to South East Asia the fish, which can reach a body length of 7 cm, was first mentioned in 1892 in Japan. It is, however, likely that breeding attempts started even earlier, since the stunningly coloured male fish were highly regarded as status symbols.
Due to its aggressive behaviour towards conspecifics of the same sex the Siamese fighting fish is often employed in show fights and competitions. Lovers of this species need to be careful of the high combative potential as the fish will continue fighting until the inferior opponent is dead. The behaviour of the Siamese fighting fish towards other species is peaceful.
In the wild, fighting fish populate stagnant waters, rice fields and marshlands. The female of this species, which can live up to three years, usually exhibits a yellow-brownish colouring, while the males can show almost any colour pattern, especially the captively bred individuals. Particularly striking is the veil-like shape of the dorsal, tail and anal fins.
The coins were minted by B. H. Mayer's Kunstprägeanstalt GmbH. Collectors can purchase the issues through specialty dealers.
Please find more information on these coins here.
This is the website of Coin Invest Trust.
If you think about breeding Siamese fighting fish yourself, you might find this care guide useful.
And here you can watch the Betta splendens fighting and mating.