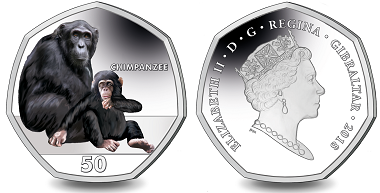 [bsa_pro_ad_space id=4]
June 14, 2018 – The Rock of Gibraltar is one of the Pillars of Hercules, the peninsulas that flank the entrance to the Strait of Gibraltar, a narrow strait which connects the Atlantic Ocean to the Mediterranean Sea and separates Gibraltar from Morocco in Africa. At the narrowest point Europe and Africa are only separated by 7.7 nautical miles of ocean.
In cooperation with Gibraltar, the British Pobjoy Mint produces a series of four 50 p coins that show primates. The second one depicts the chimpanzee, widely believed to be the closest living relative of humans.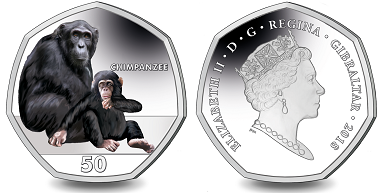 Gibraltar / 50 pence / Cupro Nickel Diamond Finish / 8g / 27,3mm / Mintage: 7,500.
The common Chimpanzee can be found in north-west and central Africa and is a species of great ape. This primate lives in groups which range in size from 15 to 150 individuals, although they split into much smaller groups to travel and forage during the day. The species lives in a male-dominated and strict hierarchy which means that disputes can generally be settled without the need for violence.
A chimpanzee at the Los Angeles Zoo. Photo: Aaron Logan / CC BY 2.5.
Believed to be one of the closest living relatives of humans, nearly all chimpanzee populations have been recorded using tools, modifying sticks, rocks, grass and leaves and using them for acquiring honey, termites, ants, nuts and water. The biggest threats to the common Chimpanzee are habitat destruction, poaching and disease. The species is listed on the International Union of Conservation of Nature Red List as an endangered species and are therefore legally protected in most of their range.
The coin features an adult Chimpanzee with an infant. With the coin available in stunning colour, these enchanting primates are really brought to life and the coin will hopefully highlight the fact that we are losing some of our amazing primates and provoke some thought into saving these beautiful animals.
You can find the Pobjoy Mint here.
More on the relation between humans and chimpanzees in this article.
Did you ever want to speak Chimpanzee? This video explains how it works.