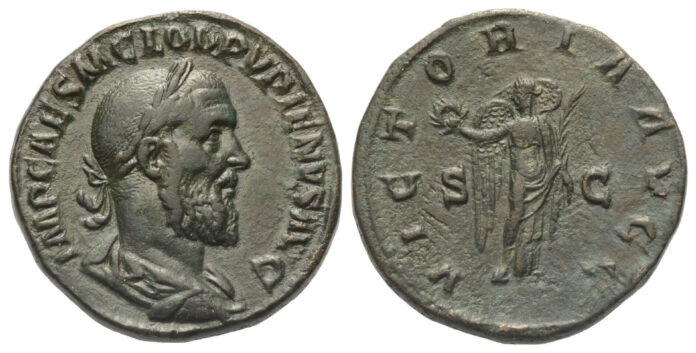 [bsa_pro_ad_space id=4]
Selected Coins at Solidus
In the current Auction 80, Solidus is presenting 585 selected coins from Antiquity to Modern Times, including some rarities and examples of outstanding quality. The auction will be held as live auction on the auction platform AUEX on Tuesday, 1 June 2021, from 4:00 p.m. CEST. Pre-bids can already be submitted. Customers with a Sixbid account can also participate in the auction live via Sixbid.
The auction begins with coinage of the Western and Eastern Celts. There is a broad range of items from ancient Greece, e. g. from Magna Graecia, Thrace, Macedonia, the Greek motherland and Asia Minor. Many nice silver coins are on offer, mainly Di- and Tetradrachmas, but also beautiful smaller denominations like a Hemidrachma of Pharsalos (lot 1053). A few nice bronze coins from Asia Minor are worth mentioning. There are also Parthian, Sasanid and Hephtalid issues.
A variety of provincial Roman Bronzes and Tetradrachms lead on to coins of the Roman world: mainly Denarii, Antoniniani and some bronzes from the Imperial period. There are two desirable coins of the Year of the Six Emperors: A denarius of Gordianus I. Africanus (lot 1325) and an especially attractive sestertius of Pupienus (lot 1326). A representative selection of Byzantine coins made of bronze and gold completes the section with ancient coins.
There is a considerable series of partly rare and high-quality coins from the Middle Ages. The broad spectrum includes coins from Germany and Europe. Among these many Venetian coins as well as issues from south-eastern Europe (Serbia, Bulgaria, Principalities of Wallachia and Moldova) and of the Crusaders from Greece and the Levant. Two extremely rare and nearly mint state denarii of the bishopric Utrecht (lots 1471 and 1472) belong to the top pieces. Remarkable are furthermore two extremely rare imitations of golden Mancusi of the county Barcelona from the 11th century (lots 1507 and 1508).
Modern coins are from Germany and the territories ruled by the Habsburgs. Other European countries are represented with coins from the 17th to 20th centuries. Among these are 2 Zlote 1813 of the county Warsaw (Lot 1583) and a rare Rubel of Elisabeth of the year 1753 (lot 1584).
You can submit your bids before the auction – or during the live auction, where you can bid on the lots in real time, similar to a floor auction, and thus actively influence the auction process. The live auction starts Tuesday, 1 June 2021, at 4 p.m. CEST. You can access the auction via the platform AUEX or Sixbid.
Here you can find the website of Solidus Numismatik.