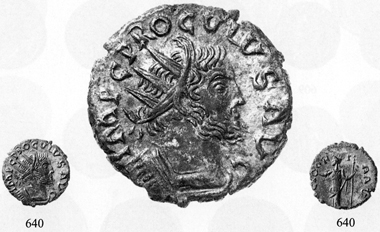 [bsa_pro_ad_space id=4]
by Björn Schöpe
November 22, 2012 – It was a real sensation what the two metal detectorists found. But they learned about it only when handing it over to an expert for valuation. It is not very astonishing that they were not able to identify the small silver coin – until then only one other specimen was known.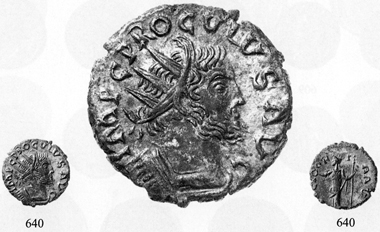 Until a couple of weeks ago this was the only known specimen of an antoninianus of Proculus, today at the Staatliche Münzsammlung München. From Bankhaus H. Aufhäuser Auction 8 (1991) 640. Estimated: 30,000 DM. Realised: 92,000 DM.
The Staatliche Münzsammlung München keeps this other antonianus of Proculus, sold by Bankhaus Aufhäuser for 92,000 DM in 1991. Previously it had come up from an old collection and was, then, vividly disputed. Third century CE? Fifteenth century forgery made by humanists? Minted by barbarians imitating Roman coins in the Late antiquity? The mysterious coin was virtually unique and remained such for decades.
Proculus, whose name is inscribed on that piece, was a Roman usurper of whom we do not know any other coin nor inscription. Only historians from late antiquity tell us about him, however, quite much of this seems to be embellishment and fiction. Proculus was allegedly proclaimed emperor in Cologne, but very soon after defeated by a general of the reigning emperor Probus. Since no mint was operating any longer in this portion of the empire, we cannot expect many coins of Proculus, anyway.
But now another antoninianus of Proculus has come up in England, maybe even minted with the same die. And again, of course, it is being debated. Roger Bland, numismatist at the British Museum in London, is extremely skeptical about it. He believes, indeed, both coins to be forgeries from the fifteenth century when scholars enthusiastic about antiquity were collecting coins of all Roman emperors. They wished to own at least one specimen of every single emperor and if they did not find one, well, in that case they might even make one by themselves in the way they imagined the desired piece.
Yet the first coin, though, was considered clearly genuine by many experts. The second specimen, hence, will probably fuel the discussions over Proculus and his coinage. The market value of this new coin was estimated at approximately £40,000 to £60,000. Being no part of a hoard the coin was registered but not declared treasure. Thus the metal detectorists may legally share up the proceeds entirely between themselves. They decided, anyway, to give part of it to the landowner who gave them permission to search on his property with their metal detectors.
You can read an article on this here.