[bsa_pro_ad_space id=4]
August 31, 2017 – The 22,888 coins of the Seaton Down Hoard are on public display for the first time. The coins were buried in the ground on Seaton Down around AD 350 and discovered in November 2013 by metal detectorist Laurence Egerton. They are now on permanent display in the Making History gallery at Exeter's Royal Albert Memorial Museum & Art Gallery (RAMM).
This makes only 4.5% of the Seaton Down Hoard. ©RAMM.
Conservation work began on the coins in July 2016. Talks, Roman Roadshows, museum events, special workshops, gallery tours and other events have been enjoyed by over 15,000 people from Devon and further afield. The Roman Roadshow has visited 46 schools in the region, helping 4276 children to explore the hoard. Almost 100 volunteers have helped clean Roman coins for the display in RAMM.
People who have had the opportunity to see some of the coins close up include students from Seaton Primary School, Colyton Grammar School and the University of Exeter, volunteers from Thomson Reuters and metal detectorists.
Assistant Curator Tom Cadbury showing a coin from the Constantinian era. ©RAMM.
At a Seaton Down roadshow in Ottery St Mary Mr Peter Harris brought along a coin he found on a beach in Tripoli where he was serving in the army during the Second World War. RAMM's Assistant Curator Tom Cadbury was able to find an identical coin from amongst Seaton Down Hoard.
Constantinian coin struck in Lugdunum. ©RAMM.
The Hoard contains more than 1,000 different coin types of different ages ranging from AD260 to 348, mainly 'nummi'. They were made in different places across a wide area including the present day Egypt, Turkey, Greece, Italy, Croatia and London. The coins would have been accepted in countries across the Roman Empire. Each coin tells a slightly different story and these stories build up into a fascinating picture of life in the Roman world. In much the same way as today, around five percent of the coins were fakes.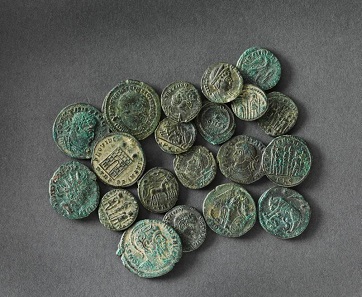 Some of the 22,888 coins of the Seaton Down Hoard. ©RAMM.
Camilla Hampshire, Museum Manager said "We're so pleased to have the Seaton Down Hoard on permanent display. Thousands of people have taken part in workshops to learn about the coins and help with their conservation and we look forward to welcoming those people to the museum. These amazing coins will be at RAMM for generations to enjoy, wonder at, and be inspired by."
Thanks to a grant from the Heritage Lottery Fund and generous donations from Pat and Sally Long, Clinton Devon Estates and many members of the public, the coins have been conserved and will be displayed alongside RAMM's other Roman objects.
A wealth of information on the hoard can be obtained from the RAMM website.
If you want to watch a movie on the find and its background, just click here.
And here you can find out more about the conservation of the hoard find.