[bsa_pro_ad_space id=4]
May 25, 2017 – With its creation of the Skull No1 coin in 2016 Coin Invest Trust caused a worldwide sensation. Thanks to smartminting© technology, they had succeeded in turning a coin of the island state Palau into a three-dimensional object in the shape of a skull. After the Silver Lucky Panda the Sea Turtle is the third collector's item made in this fashion. The diameter of the gold edition, which is even richer in detail than its predecessor, could be increased to 13.92 mm thanks to Big Gold Minting© . The silver edition, 45 mm big and 45 g heavy, is bound to fascinate young coin fans especially.
Palau / 1 Dollar / Gold .9999 / 0.5 g / 13.92 mm / Mintage: 15,000.
The obverse shows the official coat of arms of the Republic of Palau below an outrigger canoe with canoeist. Also, the coin's name and nominal value. The reverse is shaped like a sea turtle.
Palau / 1 Dollar / Silver .999 / 45 g / 45 mm / Mintage: 999.
In addition to the elements known from the gold coin, the obverse of the silver edition states the year of issue, material, weight, and fine content. The reverse is realised three-dimensionally in high relief.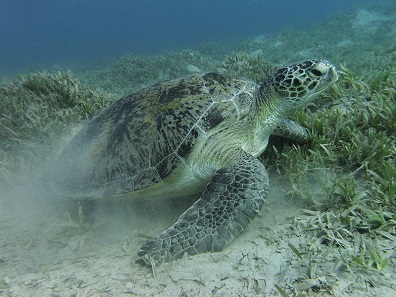 Green sea turtle near Marsa Alam, Eypt. Photo: Alexander Vasenin / Wikimedia Commons / CC BY-SA 3.0
The convex carapace of the sea turtle makes it ideal for such a three-dimensional numismatic rendition. It is native to the tropics and subtropics, and its six species are subordinate to the family of the Chelonioidea. All species possess paddle-like limbs and a streamlined body.
The sea turtle belongs to the class of the reptiles and must have developed from the tortoise some 200 million years ago. That the animals still have to break the surface for air points to their evolutionary roots. The females also leave their natural habitat after mating, when they lay their eggs in the sand at night. Since the hatchlings are exposed to many predators on their way to the water and the adult animals are hunted by men, sea turtles are threatened with extinction.
The coins were minted by B. H. Mayer's Kunstprägeanstalt GmbH. Collectors can purchase the issues through specialty dealers.
Please find more information on these coins here and here.
This is the website of Coin Invest Trust.
And a wealth of information on sea turtles is gathered on the Sea Turtle Conservancy website.
We have presented to you a numismatic sea turtle filled with coins in our CoinsWeekly article published on March 16, 2017. Unfortunately this turtle finally died.