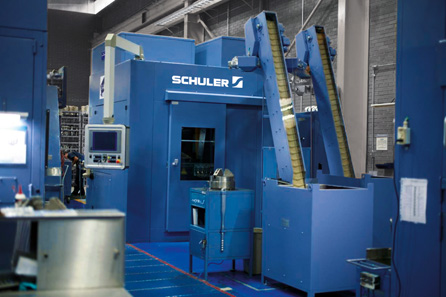 [bsa_pro_ad_space id=4]
July 8, 2014 – The heads of national mints around the world converged on Mexico City from May 11 to 17 for the 28th Mint Directors Conference. The experts discussed such topics as new alloys, colored coins, and ways to enhance counterfeit protection. The itinerary also included a visit to the Mexican Mint facility in San Luis Potosí, where several dozen Schuler machines produce pesos and centavos of various denominations.
The participants also visited a Schuler press to produce tri-metal coins at the Mexican Mint facility. Source: Schuler Group.
In addition to blanking lines, edge-lettering and rimming machines, as well as numerous coining presses, the facility also boasts one very special machine: a specially equipped MRV 300. It is the first coining press to produce so-called tri-metal coins. In contrast to the one and two euro coins, for example, tri-metal coins not only have one ring around the core, but two. The machine has a vertical design and can join and mint coins in a single operation.
Amongst other things, the Mexican Mint uses the Schuler MRV 300 with an output of up to 500 coins per minute to produce a medal to commemorate the Mayan culture. A further topic of the conference – which Schuler sponsors – was how tri-metal coins could also be used as circulation coinage to raise counterfeit protection, for example.
You can find more information on the MDC on the official website …
… and in this exclusive article in CoinsWeekly …
… and in these MintWorld articles: here, here and here.
To learn more about the Schuler presses go to the company's website.