[bsa_pro_ad_space id=4]
February 25, 2014 – The Royal Canadian Mint has ordered two minting presses from Schuler for its production facility in Winnipeg.
Back row: Dr. Xianyao Li, Chief Technology Officer Royal Canadian Mint (RCM); André Faust, Schuler; Piere Justino, Senior Director R&D RCM; Rudi Schubert, Schuler Inc.; Front row: Sean Byrne, Vice President Operations RCM; Dieter Merkle, General Manager, Schuler (from left). Photo: Schuler Group.
The contract for the two MRV 150 lines was sealed at the World Money Fair in Berlin in early February. The machines are to be put into operation in the current year and will be used to mint bi-metal coins – such as the Canadian two-dollar coin.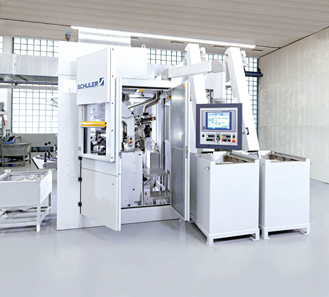 Minting press of Schuler's MRV series. Photo: Schuler Group.
One press is to replace an older model and will boost output from 200 strokes per minute at present to as many as 750 strokes per minute. The second press will serve to expand current production. The Royal Canadian Mint is based in Ottawa and exports around 80 percent of its products to over 100 countries around the world.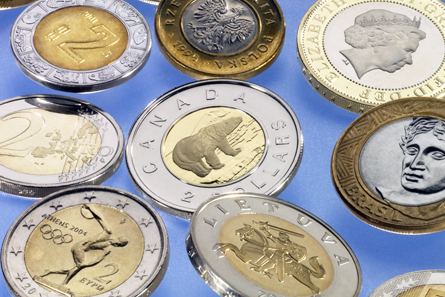 Canadian two-dollar coin and other bi-metall coins. Photo: Schuler Group.
The minting presses of the MRV series feature a vertical design for the production of all kinds of circulating coins – including round and multi-sided bi-metal coins. The rings and cores are fed separately and subsequently joined and minted in a single operation. The machines in question each have a press force of 1,500 kilonewtons.
For more information on Schuler please go to the company's website.
To learn more about The Royal Canadian Mint and its range of products, please click here.