[bsa_pro_ad_space id=4]
September 29, 2016 – On September 15, 2016, Schuler celebrated the topping-out ceremony for its new engineering and technology center at the company's headquarters in Goeppingen. Together with over 400 employees, the companies involved in the construction work, mayor Guido Till, and other town officials, the press manufacturer celebrated the completion of its 12-storey shell construction. At around 54 meters high, the new Schuler Innovation Tower (SIT) is the highest building in Goeppingen.
Construction work for the new ca. 54 m high Schuler building is progressing on schedule, the opening is planned to take place in summer 2017. Photo: Schuler.
"In order to be successful worldwide, we as a German plant engineering company rely heavily on innovations," says CEO Stefan Klebert. "Our SIT with its working environment offers ideal conditions in which to develop new technologies that make our products even better." Minutes before, a crane raised the traditional topping-out garland high in the air.
The SIT topping-out ceremony was celebrated on September 15, 2016. Photo: Schuler.
With a volume of over 40 million euros, the Schuler Innovation Tower is the largest single investment in the company's history and thus, a clear commitment to Germany as a technology center.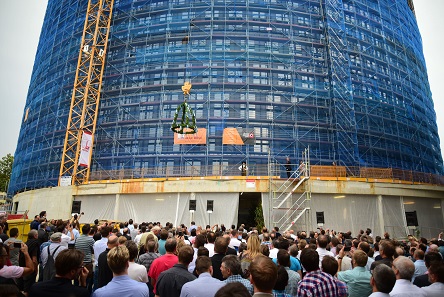 The well-attended topping-out ceremony for the Schuler Innovation Tower. Photo: Schuler.
Construction work is progressing on schedule so the approximately 750 employees are expected to be able to start moving into the new building in the summer of 2017. The engineering building opposite, built in the 1960ies, will then be demolished. The space that this clears will then provide urgently needed parking space and green areas.
To visit the website of Schuler Group, please click here.