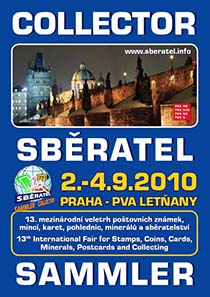 [bsa_pro_ad_space id=4]
The Greatest Gathering of Collectors from East and West from September 2nd to 4th, 2010
March 11, 2010 – The international Collector Fair "Sberatel / Collector" is the largest gathering of collectors in the CEE region.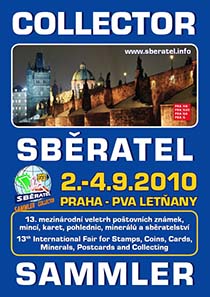 Since its inception in 1998, Collector has sought to establish a collectors' event in Prague that would stand in comparison to established exhibitions in Western Europe. The broad directory of collectibles comprises philately, numismatics, minerals, gemstones, cards, historical postcards, posters, and other fields of collectors' interest. Experts, traders, and visitors from the general public will all get their money's worth. In the words of the great poet and collector J. W. Goethe, "Collectors are happy people". The organizers are looking forward to seeing as many happy people as possible at their fairground.
Why You Must Not Miss The Collector Fair
"Collector" is the largest collectors' fair in the CEE region
Every year about 230 exhibitors from 40 nations exhibit and sell their goods here
This fair meets the quality standards of established European fairs in every aspect
Each year the fair draws about 12,000 visitors
The directory has something to offer to collectors, experts, and traders alike
"Collector" is organized by the same seasoned team of agency staff members that, among others, backed the World Stamp Exhibition Praga 2008
The fair enjoys immense media interest; information on its proceedings are reported in TV and radio newscasts and most major daily papers
"Collector" takes place under the auspices of the ?eská pošta (Czech Post), the Union of Czech Philatelists, and the Czech Numismatic Society
PVA Letnany Exhibition Center
The PVA Exhibition Center is the most modern fairground in Prague, with a total area of 105,000 sq m. Its prime advantage is its easy accessibility, combined with spacious parking facilities. A metro stop – Letnany on the C (red) line – is located five minutes by foot from the fairground. The center of Prague is only 20 minutes away by metro. Via an access road, the fairground is connected to the D8 motorway coming from Teplice, Dresden, and Berlin. The D8 also forms part of Prague's express beltway. Up to 700 parking spaces on the fairground are available for exhibitors. For visitors, there are 3,800 parking spaces available in the immediate vicinity of the fairground.
"Sberatel / Collector"
September 2nd to 4th, 2010
Prague – PVA Letnany
Opening hours: Thursday, Friday 10 am – 6 pm, Saturday 10 am – 4 pm
Entrance Fee 80 CZK / Permanent Pass 200 CZK
www.sberatel.info