[bsa_pro_ad_space id=4]
June 28, 2018 – The Ufficio Filatelico e Numismatico of San Marino issued two commemorative coins on 28th June 2018: A 5 Euro silver coin "250th anniversary of the death of Canaletto" and a 10 Euro silver coin "European Year of Cultural Heritage ".
San Marino / 5 Euros / silver .925 / 18g / 32mm / Mintage: 3,400.
The first coin depicts a beautiful view of Venice, taken from the painting "View of St. Mark's Basin from the Punta della Dogana" by Canaletto (1740-1745), which is displayed in the Brera Gallery in Milan. The artist was one of the founders of the genre of vedutismo, which achieved an extraordinary international success in the 18th century and reached its highest levels in representations of the lagoon city.
Canaletto, Piazzetta and Riva degli Schiavoni, Venice. Between 1730 and 1740.
Seen as a symbol of wealth and tranquility, Venice was immortalized in the splendor of its palaces and in the magnificence of its churches facing onto the water, steeped in a timeless atmosphere illuminated by a typically sparkling light. A specific feature of Canaletto's technique was the use of the "camera obscura".
San Marino / 10 Euros / silver .925 / 22.4g / 34mm / Mintage: 3,400.
The aim of the European Year of Cultural Heritage is to encourage more people to discover and enjoy European cultural heritage and strengthen their sense of belonging to a common European area. During the year, a series of initiatives and events will take place throughout Europe to allow citizens to learn more about their cultural heritage.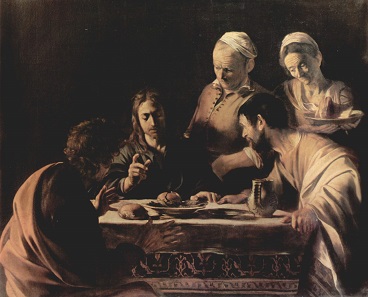 Caravaggio's "Supper at Emmaus".
The coin that celebrates this series of events shows a detail of Supper at Emmaus, a famous painting by Caravaggio (1605-1606), which is displayed in the Brera Gallery in Milan. The painting, deeply intimate with a narrow chromatic range, features a dramatic and theatrical use of light, which enhances the sacredness of the scene.
The website of the Ufficio Filatelico e Numismatico can be found here.
An impression of the Pinacoteca di Brera in Milan offers this video.
San Marino issued a lot of interesting coins. Our favorite is the coin in honor of the motorcycle racer Marco Simoncelli.