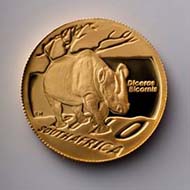 [bsa_pro_ad_space id=4]
June 2, 2011 – Reflecting unbridled support for South Africa's ongoing crusade to preserve the world's endangered rhino population, The South African Gold Coin Exchange (SAGCE) has donated R 500,000 to the Endangered Wildlife Trust (EWT).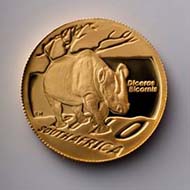 The 1/2oz 2010 coin, one of the gold coins within the Endangered Wildlife Trust Rhino Gold set.
More than 50 rhinos have already been poached in 2011. In 2010, a total of 333 rhinos were killed and dehorned in South Africa. There has been a marked increase in poaching and illegal rhino horn trade since the 1980s. In the 24 years between 1980 and 2004, 148 rhinos were poached in South Africa, increasing to 126 between 2005 and 2008, and a further increase in 2009, when 122 rhinos were poached.
Dovetailing with its EWT donation, SAGCE has launched the Endangered Wildlife Trust Rhino Gold set. With 1,300 sets minted, the limited edition gold coin set features the 2009/2010 white and black rhino coin and the Endangered Wildlife Trust medallion.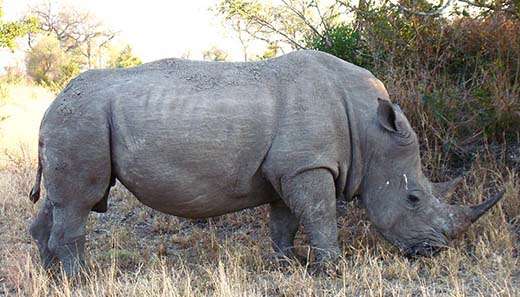 A big male Rhinoceros, photographed in SAbi SAnd Private Game Reserve, South Africa. Photo: Lukas Kaffer / Wikipedia.
"SAGCE is deeply concerned about conserving and protecting the country's rhino population – which is why we have decided to donate a sizable sum to EWT on the day that we launch the gold rhino coin sets," says Alan Demby, SAGCE's executive chairman. "This is our second donation to the cause, the first being the donation of a gold Rhino Natura Coin to Jacaranda 94.2's rhino telethon late last year, an initiative that raised more than R1 million to fund attempts to eliminate rhino poaching."
The EWT has been active in conservation since 1973 and has had many successes such as reducing crane poisoning on farm lands; reducing the number of large birds that are killed on power lines; and leading research on Critically Endangered animals such as the Riverine Rabbit. Together with its numerous partners, the EWT is actively working to stop the dramatic increase in rhino poaching in South Africa.
"This support from SAGCE is much needed and appreciated and will make a big difference to our rhino conservation work," says Vanessa Bezuidenhout, Head of Business Development and Funding at the Endangered Wildlife Trust.
If you are interested in the rhino set, visit the SAGCE's website.
Do you want to get further information on the Endangered Wildlufe Trust's work? Here is its site.