[bsa_pro_ad_space id=4]
June 26, 2014 – After 18 years in Old Bond Street, Rupert Wace Ancient Art is moving a short distance south to take up residence in an 18th century artisan's house in the historic heart of the art world. The early Georgian building standing in the centre of Crown Passage, a charming pedestrian walkway connecting King Street and Pall Mall, will provide the perfect setting for the gallery's extensive collection of works of art from the ancient worlds.
The opening of the new space will be marked by an exhibition for London Art Week celebrating the iconic image of the cat in ancient Egypt. Popular throughout history these proud creatures were particularly revered by the Egyptians and the sculptural representations they created in their honour are today seen by many as one of the quintessential symbols of their world.
Egyptian bronze seated cat. Late Dynastic Period. 25th-31st Dynasty, 715-332 BC Height: 14.4 cm. Provenance: With Wilhelm Huber, Munich, Germany; Private collection Germany, c.1980 and thence by descent. Asking price: £140,000.
The centrepiece of the exhibition will be a seated bronze cat, the archetypal image of the goddess Bastet, royal protector and defender against evil spirits and contagious diseases. Finely modelled the regal animal sits erect on its haunches, its tail curled round to the right side. The alert and dignified head has pointed ears pierced for the gold earrings. The detailed casting includes a raised necklace of cowrie shells around her neck and on her chest hangs an aegis. Adorning the top of her head is a stylized scarab beetle, symbolizing the sun.
Evidence suggests that the cat may have been domesticated for the first time in Egypt, harnessing their natural instincts as hunters of vermin, a constant threat to the essential grain supplies. Their practical role within the household is reflected in their use as amulets worn to provide protection against the hazards of everyday life, in this case, against snake bites and scorpion stings.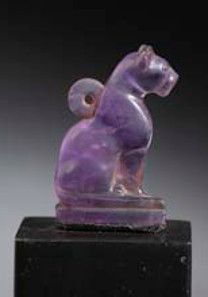 Egyptian amethyst amulet. Late Dynastic Period 25th-31st Dynasty, 715-332 BC. Height: 2.5 cm. Provenance: Private collection France, acquired 1978. Asking price: £35,000.
The popularity of such charms and talismans amongst all levels of society is illustrated by 2 examples to be offered for sale.
Egyptian faience amulet Late Dynastic Period 25th-31st Dynasty, 715-332 BC. Height: 1.3 cm. Provenance: Collection of Goddard and Ruth Dubois USA, acquired 1901-7 and thence by descent. Asking price: £1,200.
Both are in the form of a seated cat with loops at the back to allow them to be worn, one carved from amethyst and the other formed from faience.
The cats' obvious fertility and nurturing characteristics were also recognised and acknowledged. Many bronze representations were made for dedication at a shrine; gifts to the gods as an expression of gratitude or an appeal for help, perhaps in conceiving.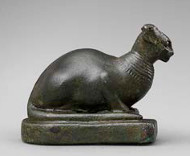 Egyptian bronze crouching cat. Late Dynastic Period. 25th-31st Dynasty, 715-332 BC Length: 6cm. Provenance: Private collection of Mr. de Serionne, France, acquired before 1920 and thence by descent. Asking price: £32,000.
A rare depiction of a crouching cat measuring just 6cm in length may well have been such an offering.
Egyptian bronze head of a cat. Late Dynastic Period. 25th-31st Dynasty, 715-332 BC Height: 10.1 cm. Provenance: Collection of Michael Inchbald, London acquired from Spink & Son, London in the early 1960s. Asking price: £75,000.
Also to be included in the exhibition is a fine bronze head simply modelled to reveal a characteristically serene feline expression. Hollow cast, this handsome head is a finished piece and not a fragment or element from a larger sculpture. It would have been set over the embalmed animal's head in imitation of a human mummy mask. Such examples are sufficiently few in number to suggest they were reserved for particularly important or venerated cats.
New gallery location:
Rupert Wace Ancient Art
19 Crown Passage St James's
London SW1Y 6PP
Exhibition opening hours:
Friday 4th to Friday 11th July
Weekdays 10 am – 6pm
Saturday 10am to 5pm
Sunday 12pm to 5pm
For further information on the exhibition 'The Cat in Ancient Egypt' or on the new gallery, please contact: Rupert Wace Ancient Art
Tel: +44 (0) 20 7495 1623
Fax: +44 (0) 20 7495 8495
Of course you can find Rupert Wace Ancient Art also online.