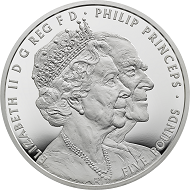 [bsa_pro_ad_space id=4]
November 2, 2017 – In 2017 the nation celebrates with Her Majesty The Queen and His Royal Highness The Prince Philip, Duke of Edinburgh as the royal couple celebrate 70 years of marriage. The Royal Mint is to recognise this unique personal milestone for them both with a range of Platinum Wedding coins that have been specially struck for the occasion.
Great Britain / 5 Pounds / Silver .925 / 28.28g / 38.61mm / Design: Etienne Miller (obverse) and John Bergdahl (reverse) / Mintage: 15,950.
The story
The 20 November 2017 marks the 70th wedding anniversary of Queen Elizabeth II and The Duke of Edinburgh. They were married at Westminster Abbey in front of 2,000 guests and the service was broadcast live to 200 million radio listeners, a welcome celebration amidst post-war austerity. The Queen saved ration tokens to buy the material for her dress and she did her own make-up on the big day.
70 years later, they have become the first British royal couple to celebrate a platinum wedding anniversary, the latest chapter in the story of the longest royal marriage in British history. They have built an enduring partnership that is an inspiration to all British citizens, as Britain celebrates this unique personal moment in royal history.
Great Britain / 10 Pounds / Gold .9999 / 156.295 / 50mm / Design: Etienne Miller (obverse) and John Bergdahl (reverse) / Mintage: 175.
The designs – a double portrait celebration
To mark this historic yet personal event The Royal Mint has struck a celebratory range of coins. Three original designs have been created for the occasion, including two combined portraits which have become a tradition on special wedding anniversaries for Her Majesty and Prince Philip.
John Bergdahl
Experienced coinage artist John Bergdahl has worked on many commissions for The Royal Mint, marking both royal and historical events and anniversaries. The artist and sculptor has created both a double shield design reflecting the heraldic lineage of both families at the time of their union, and a portrait on horseback, capturing the royal couple's mutual passion for all things equestrian.
Etienne Milner
Etienne Millner is a fellow of the Royal British Society of Sculptors and past president of the Society of Portrait Sculptors. The leading figurative sculptor's combined portrait represents a sense of duty, with Prince Philip supporting The Queen in his role of royal consort.
More information on these and other releases can be obtained from the website of The Royal Mint.
To visit the website of The Royal Family, please click here.
You can watch the Royal Wedding again in this film on YouTube.