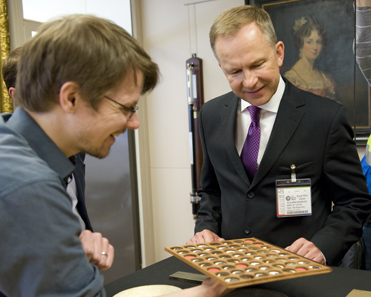 [bsa_pro_ad_space id=4]
July 12, 2012 – The Royal Mint celebrated the 90th Anniversary of the first independent currency issued in the Republic of Latvia on May 28, 2012 by striking a re-dated issue of the 5 Lats coin during a visit by Ilmars Rimsevics, the Governor of the Bank of Latvia, and Eduards Stiprais, the Ambassador of Latvia to the United Kingdom.
Joseph Payne from the Royal Mint and Ilmars Rimevics, Governor of the Bank of Latvia, admire the historic Latvian coins contained in the Royal Mint Museum during the visit to the Royal Mint on 28 May 2012.
The 5 Lats coin holds a special place in the hearts of the Latvian people. During World War II, the Latvian state lost its independence and national currency. Throughout the Soviet era the 5 Lats silver coin became a popular symbol of Latvian freedom and sovereignty, secretly stored by almost every Latvian family as a reminder of their national identity.
Eduard Stiprais, Ambassador of Latvia to the United Kingdom holds one of the new re-dated 5 Lats coins on 28 May 2012.
The visit also emphasizes the long standing relationship between Latvia and the United Kingdom. The Royal Mint was involved in striking the original 1 Lat, 2 Lats and 5 Lats coins introduced in 1922.
The visit, hosted by Royal Mint Chief Executive Adam Lawrence, also included a viewing of the 90 year old sketches and design drawings for the original Lats coins held in The Royal Mint museum.
A total mintage of up to 10,000 pieces has been authorized by the Bank of Latvia. The Bank will announce when the coin will become available to interested collectors, expected later on this year.
Adam Lawrence commented: "We are very proud of The Royal Mint's 90 year history with the Bank of Latvia and the important role our coin design has played in helping to preserve the national identity of the Latvian people. The Royal Mint has a 1,000 year tradition in creating and producing coins of the highest standard. We are the world's leading export mint, making coins and medals for an average of 60 countries every year, so we take great pride in our role supporting the development of their currency."
The Bank of Latvia presents its collector coins here.
For more information on the Royal Mint (UK), please click here.