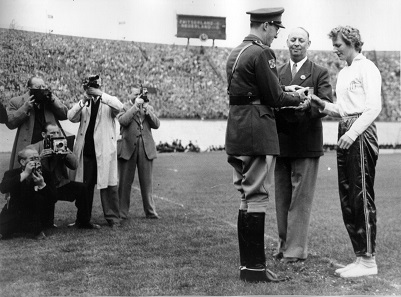 [bsa_pro_ad_space id=4]
May 3, 2018 – 26 April 2018 will mark exactly one hundred years since sports legend Fanny Blankers-Koen was born: the perfect occasion for the Royal Dutch Mint to release a new 5 euro coin as a tribute to the woman who has done so much for Dutch sport. On 3 June 2018, Dafne Schippers will operate the historic crank press and strike the first coin during the ceremonial strike. This event will take place during the international FBK Games in Hengelo.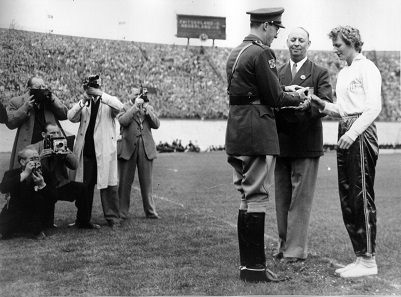 Fanny Blankers-Koen and Prinz Bernhard meeting at the Olympia stadium in Amsterdam June 26, 1949. Photo: Ben van Meerendonk / AHF, IIS Collection, Amsterdam / CC BY-SA 2.0
World War II had only just come to an end when Fanny Blankers-Koen delivered a world-class performance at the 1948 Olympic Games in London. She won four gold medals: in the 100 metres, 200 metres, 80 metres hurdles and 4 x 100 metres relay. With this feat, the athletics star put the Netherlands on the proverbial map in one fell swoop. As a mother of two children, her achievements rightfully earned her the title 'the flying housewife'. Fanny's many successes between 1935 and 1955 prompted the IAAF to name her the best female athlete of the 20th century in 1999.
The Netherlands' new 5 euro commemorative coin on Fanny Blanders-Koen.
In designing the official commemorative coin, visual artists Suzan Drummen and Monique Wijbrands were clearly inspired by the athletics legend's characteristics and achievements. The Fanny Blankers-Koen 5 Euro Coin is a coin exemplifying speed. The dynamics in the design refer to Blankers-Koen's momentum and power. Her very fast times are reflected in the circle with second indicators. King Willem-Alexander's rotating line silhouette on the front shows movement as well. The Fanny Blankers-Koen 5 Euro Coin is the second issue in the Dutch Sporting Icons series, after the Johan Cruyff 5 Euro Coin which we presented in CoinsWeekly.
For further information on this coin go to the Royal Dutch Mint website.
Don't miss the thrilling moment when Fanny Blankers-Koen wins 4 golds at the 1948 Olympics!
If you want to learn more about Fanny Blankers-Koen you can watch a short video on "The Story of the Fanny Blankers-Koen – The Female Athlete of the 20th Century".