[bsa_pro_ad_space id=4]
January 2, 2014 – Already renowned for its purity and quality, the Royal Canadian Mint's 1 oz., 99.99% pure Silver Maple Leaf (SML) bullion coin is sure to maintain its status as a favourite among the world's precious metal investors as the Mint adds advanced visual security features to the 2014 SML. A new finish formed of complex radial lines and a micro-engraved laser mark will be permanent additions to the Mint's flagship silver bullion coin.
The new Silver Maple Leaf bullion coin.
"The Royal Canadian Mint is committed to delivering outstanding quality and value to its customers by constantly improving its products through innovation," said Ian E. Bennett, President and CEO of the Royal Canadian Mint. "After 25 years of producing the world's purest and one of its most popular silver bullion coins, the Mint is pleased to offer investors even more value by incorporating technology which also makes our Silver Maple Leaf bullion coin a world leader in security."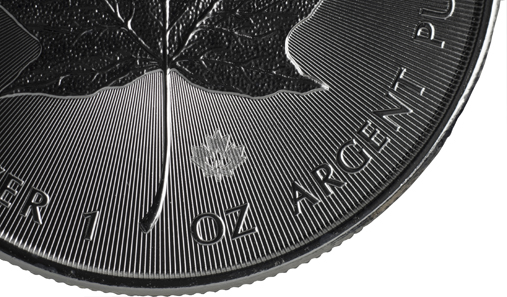 The textured maple leaf is a micro-engraving produced by laser and incorporates the numeral "14" to denote the coin's year of issue.
Replacing the traditional bullion finish on previous SML coins, the radial lines on the 2014 SML's field have been precisely machined to within microns on the master tooling to ensure consistent die production and coin striking. The specific width and pitch of the lines radiating from the coin's central maple leaf design create a light-diffracting pattern which is unique to the Mint's "next generation" SML and unmatched by competing bullion products. With the addition of a micro-engraving produced by laser of a textured maple leaf incorporating the numeral "14" to denote the coin's year of issue – technology also found on the Mint's Gold Maple Leaf bullion coin and its award-winning 2012 $1 and $2 circulation coins – the 2014 SML represents the cutting edge in bullion coin security.
The 2014 Silver Maple Leaf bullion coin has begun shipping throughout the Mint's network of official bullion distributors in December 2013 and will soon be available through bullion dealers. In keeping with a distribution model common to the world's major issuers of bullion coins, the Mint does not sell bullion directly to the public. Interested buyers are encouraged to contact a reputable bullion dealer to order the 2014 Silver Maple Leaf bullion coin.
For more information on the Mint, its products and services, visit the website.
CoinsWeekly reported on the new micro-engraved design when it appeared for the first time on Maple Leaf bullion coins.