[bsa_pro_ad_space id=4]
October 3, 2013 – In the heart of the city that inspired Metropolis, the famous backdrop against which the story of Superman™ has been told since 1938, the Royal Canadian Mint has released seven exciting new coins to commemorate the 75th anniversary of the world's most celebrated Super Hero.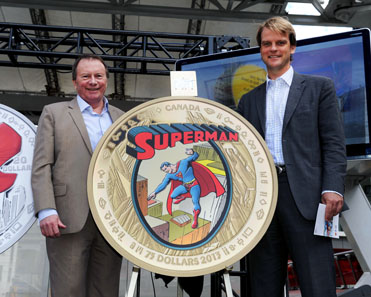 From left to right: Royal Canadian Mint President and CEO Ian E. Bennett and Canada's Minister of Citizenship and Immigration Chris Alexander unveiled a new series of collector coins on September 9, 2013, at Toronto's Yonge-Dundas Square, to commemorate the 75th anniversary of the co-creation of Superman by Canadian Joe Shuster and his American collaborator Jerry Siegel.
Co-created by Canadian Joe Shuster and his American collaborator Jerry Siegel, the Man of Steel is now honoured on collector coins which were unveiled at Toronto's Yonge-Dundas Square by Canada's Citizenship and Immigration Minister Chris Alexander and Mr. Ian E. Bennett, President and CEO of the Royal Canadian Mint.
"The generations of young people who grew up reading Superman comics may not have fully appreciated the story behind them," said Minister Alexander. "Our government celebrates Canada's history and heritage and the very values and strengths that Superman embodies."
"Seventy-five years after Superman's introduction to the world, Mint employees are proud to honour Superman's legacy by producing a special series of gold, silver and cupro-nickel collector coins for Canadians and collectors alike to treasure for years to come," said Mr. Bennett. "The Man of Steel inspired legions of popular comic book heroes, but only Superman has been immortalized on Canadian coins, which feature bold innovations and superb craftsmanship."
"Superman is the most iconic Super Hero with legions of fans around the world that span multiple generations," said Karen McTier, Executive Vice President, Domestic Licensing and Worldwide Marketing, Warner Bros. Consumer Products. "We're thrilled to partner with DC Entertainment to offer the Royal Canadian Mint the ultimate DC Comics Super Hero in this honorable collection that embodies the world of Superman."
After capturing the imagination of the world for more than seven decades, the story of Superman is being celebrated on seven exciting collector coins produced by the Royal Canadian Mint. From his early years to the modern day, every dimension of Superman on his 75th anniversary is reflected on these spectacular collectibles in gold, silver and cupro-nickel.
In a remarkable design feat, the Mint has added Kryptonian engraving which reads "75 years of Superman" to the edge of the reverse design of several of the coins. As well, each coin is packaged in a distinctly illustrated beauty box featuring the most memorable sights and symbols of the Man of Steel.
$75 14KT gold coin: The early years.
To craft the world's first gold coin depicting Superman, the Mint has chosen a $75 face value, 14KT gold coin featuring a full colour image of the DC Comics Super Hero soaring over Metropolis as his Canadian-born co-creator, Joe Shuster, pictured him on the cover of the Superman No. 1 comic book. That legendary image is framed by a meticulously engraved rendering of Superman's crystalline Fortress of Solitude, whose three contrasting finishes add an impressive level of dimension to this exclusive collectible. The coin is limited to a world-wide mintage of 2,000 examples.
$10 fine silver coin: Vintage.
Another classic image is captured on a 99.99% pure, $10 face value silver coin featuring Superman breaking out of chains as he defeats another legion of villains. This vintage portrait of the Superman legend is beautifully engraved on a coin limited ton 15,000 examples world-wide.
$15 fine silver coin: Modern day.
This tribute to today's Superman features the most contemporary image of the famed DC Comics Super Hero. Again, a full colour image of the Man of Steel leaps from the flawless background of a proof silver coin and evokes the thrilling action of Superman in full flight. This 99.99% pure silver coin is packaged in a beauty box adorned by a classic image of his alter ego Clark Kent and the unmistakable "S-Shield" and is limited to a world-wide mintage of 15,000.
$20 fine silver coin: Man of steel.
The iconic cover of Superman No. 204 shows a Jim Lee illustration of the Super Hero standing guard over Metropolis in vivid colour on a 99.99% pure silver coin. Superman's chiseled physique and flowing red cape are enhanced by the application of colour over an engraved relief of this modern-day image. The $20 coin is issued with a world-wide mintage of only 10,000 pieces.
$20 fine silver coin: The shield.
No numismatic tribute to Superman would be complete without a coin boldly displaying Superman's iconic "S-Shield". The Mint has achieved this by rendering that universally recognized symbol in vibrant yellow and red enamel virtually floating over the mirror-like field of a proof-finish 99.99% pure silver coin. The diamond-shaped shield with its stylized "S", which Superman's co-creators adopted in the 1940's, remains the unmistakable signature of Superman, which can be found on only 10,000 of these $20 face value fine silver coins.
$20 fine silver coin: Metropolis.
The celebration of modern-day Superman is anchored by yet another Royal Canadian Mint innovation; the world's first coin to feature an achromatic hologram. The Mint has taken a technology first developed for passports and other high security documents to new heights to give a flat surface the amazing look of a fully engraved, 3-D image.
Set against a conventional hologram showing the Daily Planet building and the Metropolis skyline, the achromatic hologram of Superman flying over Metropolis creates the otherworldly impression that he is flying out of the coin. That sensational effect is created on a 99.99% pure silver coin with a $20 face value, of which only 10,000 examples are available.
50c cupro-nickel: Then and Now.
The iconic cover art of Superman No. 1 also appears on a 50-cent cupro-nickel coin whose theme of "Then and Now" is brought to life by the addition of lenticular image technology. Packaged with a Canada Post stamp commemorative also featuring Superman No. 1, this coin shifts from Joe Shuster's original design to a modern interpretation of the same pose by celebrated Superman artist and DC Entertainment's Co-Publisher Jim Lee. This unique coin and stamp set coin is being produced on demand.
You can learn more about the Superman products at the website of The Royal Canadian Mint.
If you are a Superman addict or if want to to become one you must absolutely visit the official DC Comics Superman section …
… and the Superman Homepage.
SUPERMAN and all related characters and elements are trademarks of © DC Comics.