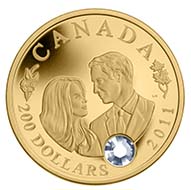 [bsa_pro_ad_space id=4]
July 14, 2011 – Exactly two months after the historic wedding of the Duke and Duchess of Cambridge, the Royal Canadian Mint is joining the celebration of the visit of their royal highnesses to Canada by issuing a limited-edition gold coin and crystal collector coin. Crafted of 22-Karat gold and bearing a CAD 200 face value, this exclusive coin captures the same design of the silver royal wedding coin issued by the Mint in April 2011. It is enhanced by a white crystal and is limited to a mintage of only 2,000 coins.
Canada – 200 CAD – 91.67% gold, 8.33 % silver – 16.0 g – 29 mm – Mintage: 2000 – Designer: Laurie McGaw (reverse), Susanna Blunt (obverse).
This newest royal wedding coin was preceded on April 6, 2011 by a CAD 20 silver version enhanced with a blue crystal, evoking Miss Catherine Middleton's sapphire engagement ring. At the same time, the Mint released a coloured 25-cent nickel plated steel coin displaying a vivid photograph of the happy couple.
The Mint is proud of the many other "royal-themed" coins it is offering Canadians and royal-watchers world-wide in 2011 and 2012, as the world celebrated the wedding of the century earlier this year, and as Canada counts down to the to the Diamond Jubilee of Her Majesty Queen Elizabeth II on February 6, 2012. These include a Continuity of the Crown series in ultra high relief silver, portraying Princes William, Harry and the Prince of Wales, as well as a variety of coins celebrating the Queen's Diamond Jubilee.
For more information on this coin and the other "royal-themed" coins look here.