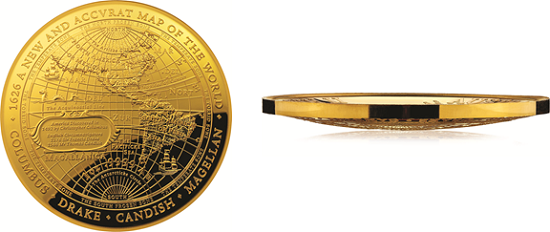 [bsa_pro_ad_space id=4]
September 27, 2018 – Artistry, craftsmanship and history combine in a new gold domed coin released by the Royal Australian Mint. The 2018 $100 Gold Proof Domed Coin captures the Western Hemisphere as depicted on a richly-decorated 1626 map by English cartographer John Speed titled A New and Accurate Map of the World.
Australia / 100 dollars / gold .9999 / 1 oz / 38.51 mm / Mintage: 750.
Struck from one ounce of gold and finished to the Mint's high quality proof standard, the 2018 $100 Gold Proof Domed Coin reflects the magnificence of the era and is expected to captivate collectors worldwide. Royal Australian Mint Chief Executive Officer Ross MacDiarmid says the exclusive domed coin is the second and final release in the popular Terrestrial Gold Dome series.
The New and Accurate Map of the World by John Speed.
"We have seen incredible demand for our domed coins and are proud to continue the Mint's reputation for producing world-class and innovative coins with the Terrestrial Gold Dome series," he said. "The design of the 1626 A New Map of the World coin reflects the detailed artwork of a beautiful and fascinating 17th century map and truly captures the excitement and opulence of an age of discovery."
For more information on this coin and other products issued by the Royal Canadian Mint please visit the official website.
This short video by The Old Map & Clock Company tells you more about the fascinating work of John Speed, which also included many extremely detailed maps of English counties.