[bsa_pro_ad_space id=4]
December 3, 2015 – A farmer made a spectacular find in his cherry orchard in Ueken: on a molehill he spotted some shimmering green coins. With a Roman settlement excavated in near-by Frick shortly before, the family believed the coins to be Roman. According to legal regulations, archaeological finds belong to the public.
The finder thus turned to the Department of Archaeology of the Canton of Aargau where it was confirmed: The almost mint-state coins are indeed Roman.
The Department of Archaeology examined the find-spot and secured it, assisted by voluntary soil researchers. An archaeological excavation, conducted under strict secrecy, followed in September and October 2015.
Discovery of the Ueken coin trove. Parts of the coin hoard were buried in the ground, stored in pouches made of leather or fabric. © Canton of Aargau. Photograph: Béla Polyvàs.
A total of 4,166 Roman coins were unearthed on only a few square meters. That makes the Ueken find one of biggest coin troves ever to be discovered in Switzerland.
A fraction of the Ueken coin trove in unrestored condition. © Canton of Aargau. Photograph: Béla Polyvàs.
Numismatist Hugo Doppler gives a first assessment of nearly 200 coins. Thanks to the clearly legible imprint on the coins, he states that the coins are antoniniani from the time after AD 274. Doppler identifies coins of the following emperors: Aurelianus (270-275), Tacitus (275-276), Probus (276-282), Carinus (283-285), Diocletianus (284-305), and Maximianus (286-305). The youngest coins date to AD 294.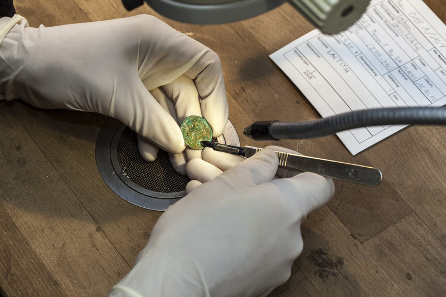 Coin restoration under the binocular. © Canton of Aargau. Photograph: Béla Polyvàs.
Containing as much as 5 per cent of silver, the bronze coins are especially valuable. Withdrawn from circulation immediately after being struck, the coins are in a magnificent condition. Their owner must have had selected the specimens for hoarding, their silver content ensuring a stable value in financially turbulent times. Probably assembled over years, the treasure was buried shortly after AD 294.
Only 250 coins out of 4,166 are restored. They are in a very good condition. © Canton of Aargau. Photograph: Béla Polyvàs.
The original value of the roughly 4,000 coins can only be guessed. Inflation rampant in the 3rd century AD, the real value of the antoniniani is impossible to determine. The fortune most likely equaled the average income of two or three years.
Please find more about treasure finds in our relevant archive category.