[bsa_pro_ad_space id=4]
Roma Numismatics' E-Sale 57
Roma Numismatics' E-Sale 57 features 1,398 lots of Celtic, Greek, Judean, Roman, Byzantine, Islamic, Medieval and World Coins. The auction will end on Thursday, May 30, 2019, from 1:00 PM local UK time, with one lot closing every 10 seconds.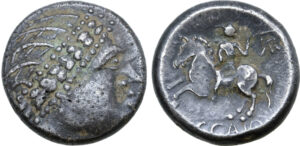 As in recent previous sales, a selection of coins from the prestigious Hermann Lanz collection is available, notable for their excellent pedigree and publication by M. Kostial under the auspices of the Staatlichen Münzsammlung München. This is an opportunity for collectors of Celtic coinage to own a part of the numismatic legacy of the Lanz family. The extensive array of types that Lanz collected over many years now presents buyers with a considerable variety of choice.
The Greek section includes several Juba II denarii from the Banasa/El Ksar Hoard of 1907 including one unpublished type, an obol from Pheneos in Arkadia of superb quality, a large selection of Macedonian and Thracian coins, numerous early electrum issues, and a varied selection of Seleukid and Baktrian coins. The section is rounded off with some desirable Indian dinars and a silver astragalos! This is followed by a small but pleasant group of Judaean coins.
At the beginning of the Roman section there are a number of Hadrian cistophoric tetradrachms from the collection of an antiquarian from Bavaria (c. 1960s-1990s) and the following Republican and Imperatorial sections include some stunning pieces such as a wonderful example of a Sex. Pompeius Fostlus denarius depicting the foundation myth of Rome, and several very attractive denarii of Marc Antony and Octavian. Of note in the Roman Imperial section is a Diva Faustina I aureus of a very rare type as well as a large selection of siliquae from a declared UK-found hoard, and numerous gold coins of the late Roman emperors.
Sizeable Migration period and Byzantine sections, together with a varied Medieval and Modern category including highlights such as an extremely rare Offa penny and a highly attractive golden coin of Napoleon round off the auction.
To view lots and submit your bids now, click here.
For more information on this and others sales go to the auction house's website.