[bsa_pro_ad_space id=4]
Roma Numismatics E-Sale 70 Now Online
E-Sale 70 is now online and open for bidding. It features 1,579 lots of Celtic, Greek, Judaean, Roman, Byzantine and Islamic coins. Lots will begin closing from 1pm (local UK time) on Thursday 7 May with one lot closing every 15 seconds. There will be no subsequent live session and when the lot closes at the end of the countdown, there will be no further bidding accepted. An 20% buyer's premium will apply to this sale. VAT is applicable to the Buyer's Premium only (not the hammer value of the lots) for UK and EU customers.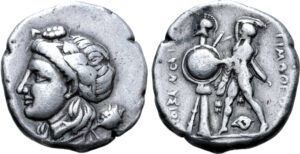 The sale opens with the now familiar selection from the notable William Stancomb Collection. Many of these coins are published in Sylloge Nummorum Graecorum Great Britain XI, and offer collectors an opportunity to bolster their collection with many rarities from this little studied Black Sea area.
This sale also offers a further selection from the Amilcare collection, including another group of Spanish bronzes in which can be seen a half unit from Malaka rated R9 by ACIP and a quarter unit from Gades of the same rarity.
In the Greek section a lioness issue Akanthos tetradrachm and a beautiful Perge tetradrachm join the second know example of an intriguing Anemourion stater in a line up of exceptional rarities. This section continues with a rare Ura Stater as well as a seldom seen Pheidian-influenced portrait of Zeus on a Alexander I Balas tetradrachm.
Rarities continue in the Roman provincial section with the first known example of a tetrassarion of Commodus, as Caesar, from Trapezopolis and an exceptionally rare Gordian III pentassarion of Marcianopolis.
The Roman Republican and imperatorial sections include high grade and attractive pieces such as a pleasantly light toned anonymous didrachm, a M. Acilius M. f. denarius displaying beautiful rainbow iridescence and a C. Cassius Longinus denarius with a deep old cabinet tone, all of which boast high grades.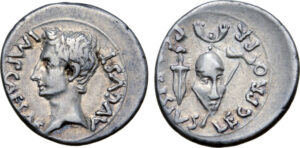 The Roman Imperial section features coins with excellent pedigrees including some published in reference works. Three high grade Augustus denarii are published in Fernández, Fernández & Calicó, Catálogo Monográfico de los Denarios de la República Romana and an attractive Domitian denarius originally from the Michael Kelly collection was sold at Rauch in 2009.
The Byzantine section showcases some wonderful rarities including a very rare solidus of Constantine V Copronymus, with Leo IV, from Syracuse in mint state condition and rare Justinian I solidus with an officina initial unlisted in Dumbarton Oaks.
The sale concludes with our ever popular large lot category which is perfect for new collectors or seasoned buyers looking to boost their existing collection.
Click here to view lots and submit your bids.
E-Sale 69 Results & Invoices, Highlights, and Direct Sale Lots
Roma Numismatics Ltd.'s Auction 69 was a stunning success. In total, 1,717 lots went under the hammer resulting in 8488 bids from 748 bidders, and total sales of £415,187 (excluding buyers' premiums) being achieved against a pre-sale estimate of £334,780.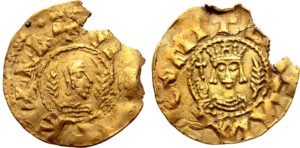 Some Notable Results
Lot 584: An extremely rare gold unit of the Aksumite king Gersem with excellent pedigree sold for £14,000.
Lot 711: A highly desirable tetradrachm of Marc Antony and Cleopatra from Antioch sold for £7,500.
Lot 1123: The cover coin of the sale – an Aurelian aureus in mint state condition sold for £14,000.
Honourable Mentions
Lot 118: A Chersonesos bronze from the William Stancomb collection sold for £950 from a starting price of £30.
Lot 313: The second recorded example of a bronze from Paropos from the Amilcare collection sold for £1,700 from a starting price of £60.
Lot 1340: A rare Fatimid quarter dinar with an unrecorded date sold for £1,700 from an opening price of £60.
For the full list of results please view the closed sale here.