[bsa_pro_ad_space id=4]
Roma Numismatics E-Sale 68 Now Online
E-Sale 68 is now online and open for bidding. It features 1,557 lots of Celtic, Greek, Judaean, Roman, Byzantine and Islamic coins, electrotypes and books. Lots will begin closing from 1pm (local UK time) on Thursday 27 February with one lot closing every 15 seconds. There will be no subsequent live session and when the lot closes at the end of the countdown, there will be no further bidding accepted. An 20% buyer's premium will apply to this sale. VAT is applicable to the Buyer's Premium only (not the hammer value of the lots) for UK and EU customers.
The sale opens with a now familiar selection from the notable William Stancomb Collection. Many of these coins are published in Sylloge Nummorum Graecorum Great Britain XI, and offer collectors an opportunity to bolster their collection with many rarities from this little studied Black Sea area.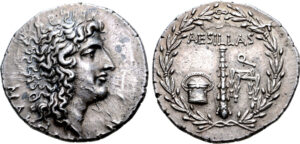 This sale also offers further collectable coins from the Michael Higley Collection across the Greek and Roman categories, including highlights such a high grade tetradrachm from Macedon under Roman Rule and a unique and unpublished Aspendos tetradrachm.
The Greek section offers a group of rare Juba denarii from the Banasa / El Ksar Hoard of 1907, of particular note is a unique denarius depicting the head of Africa in an elephant headdress and no control symbols. The selection of Athens tetradrachms showcases a desirable example with the full helmet crest visible as well as a high grade example previously grade AU★ by NGC. There is further opportunity to become the owner of one of the Aksumite coins from the Maekelay-Tigray Collection which sold to great success in E-sale 67, realising a total of £29,780 from an estimate of £6,225.
The Roman provincial section presents a number of rarities, such as the second known example of a Marcus Aurelius bronze from Philadelphia, Decapolis and an extremely rare Severus Alexander bronze of Parium, Mysia, illustrated on RPC Online.
The Roman Republican section includes some attractive and high grade pieces, ideal for any early Roman collector. A D. Silanus L. f. denarius and a C. Vibius C. f. C. n. Pansa Caetronianus denarius both in mint state are particular highlights.
The Roman Imperatorial and Imperial sections feature coins with excellent pedigrees; for example a Julius Caesar denarius from an auction of Asta del Titano in 1992, a Hadrian Sestertius from a sale of H. D. Rauch in 1987 and a Philip I as from a Schweizerische Kreditanstalt Bern auction in 1985. Other highlights include an interesting mule denarius of Antoninus Pius, an unusual orichalcum antoninianus of Tetricus I and a well detailed and high grade commemorative nummus depicting the wolf and twins.
The end of the Imperial section and the Byzantine section, once again include some wonderful rarities from the I.K. collection of Cherson coins. Highlights from these include the first known example of a Basil I bronze from this area and an extremely rare bronze of Leo VI.
A sizable Islamic section is followed by a group of electrotypes, many bearing stamps from the British Museum and published in Barclay Head's guide.
Concluding the single lot section of the sale is a group of numismatics books, catalogues, circulars and other various literature; a perfect way to fill any holes in a numismatic library.
Click here to view lots and submit your bids.
E-Sale 67 Results, Highlights, and Direct Sale Lots
E-Sale 67 was a great success. 1,526 lots went under the hammer, resulting in total sales of £323,288 (excluding buyers' premiums) being achieved.
Some notable results:
Lot 540 – An extremely rare gold unit of Ella Gabaz from the Aksumite Kingdom sold for £5,500.
Lot 750 – A Q. Pomponius Musa denarius with excellent pedigree from 1991 sold for £5,500.
Lot 766 – A Julius Caesar denarius depicting emblems of the augurate and pontificate sold for £7,000.
Honourable mentions:
Lot 379 – An extremely rare obol of Kheriga; dynast of Lykia, sold for £800 from an opening price of £30.
Lot 545 – A Hataz bronze from the Kingdom of Axum sold for £1,300 from an opening price of £60.
Lot 1386 – An extremely rare and an unusual mint error example Victoria rupee from British Colonial India sold for £2,400 from an opening price of £90.
For the full list of results please view the closed sale here.
Coins Available for Direct Purchase
Any lots that did not already sell in the auction are available to purchase at fixed prices on the recently created shop page on the website, corresponding to the opening price plus buyer's premium and VAT. They will be available for a limited time only, and will be returned to their owners once the unsold lot period expires.