[bsa_pro_ad_space id=4]
Roma E-Sale 80 in Association With Numismática Lucernae
Roma Numismatics' E-Sale 80, held in association with Numismática Lucernae, is now online and open for bidding. Roma Numismatics hosts this sale jointly with their trusted colleague offering 1,983 lots of Celtic, Greek, Judaean, Roman, Byzantine, Islamic and World coins.
This sale starts with a sizable Celtic section with highlights such as an extremely rare half unit from Ituci in Spain, a "Norfolk god" unit from Iceni in Britannia which some scholars attribute to the time of Boudicca's revolt and a group of high grade drachms imitating the types of Alexander III.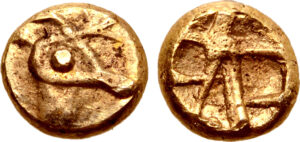 The Greek section offers further selections from the Marnix Collection, including two unpublished Ionian fractions and a very rare bronze from the Dynasts of Mysia, which are joined by an electrum fraction from Asia Minor previously offered at Hirsch in 2010 and a 1/96 stater of Phanes from Ephesos which is published in W. Fischer-Bossert "Phanes: A Die Study". Notable Greek highlights beyond this collection encompass a highly attractive didrachm of Segesta, a Thasos drachm previously offered at Triton I in 1997 and a group of rare Armenian and Sophene bronzes.
The rarities in the Roman Provincial section this time include an apparently unpublished bronze of Severus Alexander from Caesarea and an extremely rare Philip I tetradrachm of Antioch of which Prieur lists only one example. This precedes a sizable Roman Republican section in which is bolstered by many pieces from the Vitangelo Collection, selections from which can be seen across most categories in this sale. This collection offers many bronze Republican coins many of which are rarely seen and in one instance providing five different denominations for one moneyer providing an interesting study for this type.
Selections from the Vitangelo Collection continue on into the Roman Imperial section with highlights such as a very rare as of Trajan Decius and an equally rare siliqua of the elusive Jovinus. Other pieces of note in this section include a historically important aureus of Trajan depicting his forum, one of the great building projects of his reign, and a Hadrian denarius originally from the Dr. Rattinger Collection and previously purchased from Münzen und Medaillen AG Basel in 1980, these are joined by a possibly unique sestertius of Lucius Verus and a Constantius II Centenionalis struck during the revolt of Poemenius.
The Islamic and world sections offer coins with excellent pedigree; a bronze dirham from the Artuqids of Mardin was originally offered at CNG in 2010, an 1/8 ahmadi riyal of the Zaydi Imams of Yemen sold at Sotheby's in 1995 and an Armenian kardez of Gosdantin I was originally sold at Gorny & Mosch in 2005.
The sale concludes with the ever-popular large lot category which is perfect for new collectors or seasoned buyers looking to boost their existing collection.
Lots will begin closing from 01:00 PM (local UK time) on Thursday 4th February 2021 with one lot closing every 15 seconds. There will be no subsequent live session and when the lot closes at the end of the countdown, there will be no further bidding accepted. A 20% buyer's premium will apply to this sale. VAT is applicable to the Buyer's Premium only (not the hammer value of the lots) for UK customers only.
Here you can view all lots and submit your bids.
E-Sale 79 Results
Roma Numismatics Ltd.'s E-Sale 79 was their first sale in 2021. 1,436 lots went under the hammer, resulting in total sales of £350,901 (excluding buyers' premiums) being achieved on behalf of their consignors.
Notable results:
Lot 727 – An aureus of Galba from the Bawden Collection with other extensive provenance sold for £7,000.
Lot 212 – A high grade and very rare stater of Ephesos sold for £4,600.
Lot 697 – A Tiberius aureus from the Shackleford Collection and cover coin of the sale sold for £5,500.
Honourable mentions:
Lot 511– An extremely rare bronze of Agrippa Postumus as Caesar sold for £2,400 from a starting price of £60.
Lot 732 – A very rare Vespasian sestertius with provenance going back to 1932 sold for £2,000 from a starting price of £90.
Lot 346 – An extremely rare fourrée stater of Mallos in Cilicia sold for £1,300 from a starting price of £60.
For the full list of results can be found online.