[bsa_pro_ad_space id=4]
Roma E-Sale 75
E-Sale 75 is now online and open for bidding. It features 1,811 lots of Celtic, Greek, Judaean, Roman, Byzantine, Islamic and World coins.
The sale opens with the Celtic section including some desirable coins such as a Massalia drachm originally from the prestigious Hermann Lanz collection and a bronze unit of the Remi displaying a highly attractive triple jugate portrait.
The Greek section offers some attractive rarities including two extremely rare obols of Kyzikos, an apparently unpublished bronze of Hieropolis-Kastabala, (possibly the first known example of the type) and a pseudo-autonomous bronze from Isinda with an unpublished date on the reverse. These join noteworthy pieces such as a Naxos hexonkion in exceptional condition for the type and a high grade "transitional" issue Athens tetradrachm.
The Judaean section, featuring an extremely rare obol of Philistia or Samaria, precedes a Roman Provincial selection also boasting many rarities. A bronze of Nero from Hieropolis and a Trajan didrachm from Caesarea are both the fifth example known with only four others listed in RPC. A bronze of Gordian III from Seleucia published in RPC Online as the only example of this type and an extremely rare architectural type bronze of Severus Alexander from Neocaesarea number just some of the other rarities in this section.
Some particular highlights of the Republican and Imperatorial sections include a C. Junius C. f. denarius originally sold at NAC in 2007, a very rare anonymous imitative uncia and a Cnaeus Pompey Junior denarius originally from the John L. Cowan Collection.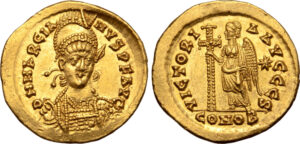 The Roman Imperial section offers a number of attractive pieces struck throughout the duration of the empire. A high grade antoninianus of Gordian III with attractive iridescent toning sits alongside a Probus antoninianus from Ticinum with a wonderfully detailed portrait and a Marcian solidus in near mint state condition with lustrous surfaces.
Turning to the Byzantine section, highlights include an aspron trachy of the usurper Theodore Mankaphas, a very rare Heraclius bronze from the mint of Catania and an equally rare decanummium of Justinian I possibly struck at Perugia. The Islamic section follows on with some high grade pieces such as a mint state dinar of the Seljuqs of Rum and a rare and attractive al-Mu'tadid dinar struck at the Nisibin mint.
The sale offers a considerable number of British Museum electrotypes in the Paduans, electrotypes and copies section. Many of the pieces are stamped with the initials of Robert Ready or his sons Charles and Augustus and are copies of some of the most rare and desirable types in numismatics.
Concluding the single lot part of this sale is the impressive and sizable world section including rarities and pieces of interest from across the globe. Selections from the Oscar Collection of World Coins (USA) which can be seen in CNG Auction XX are continued here with British Colonial coins from India and Ceylon, of particular note is William IV rupee graded MS62 by NGC. A group of high grade Victoria sovereigns from Australia join an extremely rare medal of Barbados commemorating the hurricane of 1831 and an extremely rare crusader imitation of a Fatimid dinar of Al-Amir.
The sale concludes with the ever popular large lot category which is perfect for new collectors or seasoned buyers looking to boost their existing collection.
Lots will begin closing from 1pm (local UK time) on Thursday 15 October with one lot closing every 15 seconds. There will be no subsequent live session and when the lot closes at the end of the countdown, there will be no further bidding accepted. A 20% buyer's premium will apply to this sale. VAT is applicable to the Buyer's Premium only (not the hammer value of the lots) for UK and EU customers.
All lots of the current auction are available on the Roma numismatics website.