[bsa_pro_ad_space id=4]
Roma E-Sale 69 Is Now Online
E-Sale 69 is now online and open for bidding. It features 1,718 lots of Celtic, Greek, Judaean, Roman, Byzantine, Islamic and world coins. Lots will begin closing from 1pm (local UK time) on Thursday 16 April with one lot closing every 15 seconds. There will be no subsequent live session and when the lot closes at the end of the countdown, there will be no further bidding accepted. An 20% buyer's premium will apply to this sale. VAT is applicable to the Buyer's Premium only (not the hammer value of the lots) for UK and EU customers.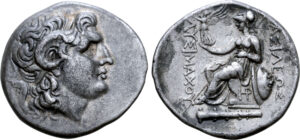 The sale opens with our now familiar selection from the notable William Stancomb Collection. Many of these coin are published in Sylloge Nummorum Graecorum Great Britain XI, and offer collectors an opportunity to bolster their collection with many rarities from this little studied Black Sea area.
This sale also offers a number of fascinating rarities from the Amilcare collection, including a group of Spanish bronzes, an extremely rare bronze of Syphax, the Numidian king, and an equally rare anonymous semis from the Roman Republic.
The Greek section presents further examples of the collectible Aksumite coins from the Maekelay-Tigray Collection which sold to great success in both our E-sales 67 & 68. Additional highlights of this section include a high grade tetradrachm from Magnesia ad Maendrum in Ionia, originally from the Phoibos collection and a rare and beautiful electrum stater of the Bosporan king Rheskouporis II.
The Roman provincial and Republican sections offer a number of high grade and rare pieces; such as an extremely rare bronze medallion of Trebonianus Gallus from Isinda in Pisidia, a C. Valerius C.f. Flaccus denarius in mint state condition and a high grade Faustus Cornelius Sulla denarius with a beautiful old cabinet tone displaying vivid iridescence.
Our Roman Imperial section features coins with excellent pedigrees, including an extremely rare denarius of Faustina II, originally part of the Paul Tinchant collection and sold at auction in 1966, as well as a Valerian I, with Gallienus medallion sold at NAC in 1997. Further notable coins in this section include an extremely rare Aurelian aureus in mint state condition and a high grade half-nummus of Crispus, as Caesar, of which there are only two other examples on CoinArchives.
Highlights from the Byzantine and Islamic sections include a high grade gold tetarteron of Constantine IX, originally sold at Künker in 2016 and an excessively rare and unpublished dirham from the Emirate of Cordoba under the Umayadds of Spain.
This sale offers a sizable selection of world coins, with examples from across the continents. Notable pieces from this section include a historically interesting 2 gulden coin of Maximilian II, struck to commemorate the restoration of the Madonna Column in Munich, an official Royal mint issue, Edward IV coronation medal and an unpublished Amelia medal from Mozambique during the Portuguese colonisation.
The sale concludes with our ever popular large lot category which is perfect for new collectors or seasoned buyers looking to boost their existing collection.
See all lots of this auction on the Roma Numismatics website.
Read more about the results of the last Roma auction here.