[bsa_pro_ad_space id=4]
December, 29 2010 – The Hella Wuolijoki collector coin design competition has been won by the architect Petri Neuvonen with his design 'The roots of the tales'.
In 2011 it will be 125 years since the death of Hella Wuolijoki. To commemorate this, a silver 10 euro collector coin will be minted.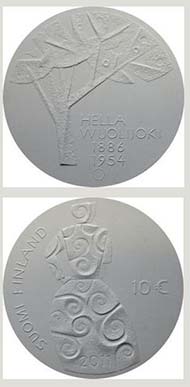 Finland 10 Euro "Hella Wuolijoki, Designer: Petri Neuvonen.
The Collector Coin Committee issued an invitation to compete for the design of the coin and seven entries arrived by the deadline. The winning entry came from the architect Petri Neuvonen and was entitled 'The roots of the tales' (Tarinoiden juuret). The prize committee praised his work for its balance and its multidimensional nature, noting that it was aesthetically laid out and that it presents a clear image of the strong character it represents.
Petri Neuvonen describes his own entry as follows: My proposal brings out Hella Wuolijoki's work as a writer and as a depicter of life in the Finnish countryside. The starting point for the work was the strength of the female characters in Wuolijoki's plays and her colourful tales the roots of which spring from the light earth of Häme (Tavastia).
No other prizes were awarded. The other entries, in alphabetic order of their artists, were: Olavi Haapala's ' A legend in her lifetime' and 'A seer and a doer in a time of change', Marjo Suikkanen's 'Life's antenna' and 'The leaves of drama', Nora Tapper's 'White crow' and Erja Tielinen's 'On the many stages of life'.
Serving on the Hella Wuolijoki prize committee were Chairman Professor Emeritus Yrjö Sotamaa from Aalto University, senior budget secretary Marja Kirppu from the Ministry of Finance, curator Heikki Malme from the Ateneum Art Museum, Assistant Professor Maria Lähteenmäki from Helsinki University and Paul Gustafsson, CEO of the Mint of Finland. The following were invited as expert consultants: the artist Ilona Rista, the sculptor Pekka Rytkönen, architect Jari Frondelius and Secretary in Chief of Nytkis ry Tanja Auvinen. Export and Marketing Assistant Sinikka Ravander from Mint of Finland served as secretary to the committee.
The competing entries can be seen at the Aalto University School of Art and Design during calendar week 1 (3. – 5.1 and 7.1.2011) at Hämeentie 135 C, Helsinki.
If you want to know more about Hella Wuolijoki, please click here.