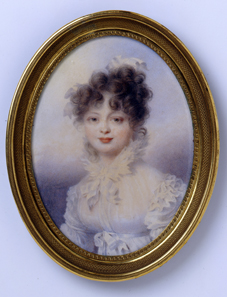 [bsa_pro_ad_space id=4]
October 17, 2013 – At Stuttgart's Old Castle, an imposing structure steeped in history, a special exhibition entitled 'Reflected Glory: the Romanovs, Württemberg and Europe' tells the story of five legendary women whose marriages formed the basis of the extraordinary history shared by the House of Württemberg and the Russian Romanov dynasty. The exhibition runs from 5 October 5, 2013 to March 23, 2014.
Medal on laying of the foundation stone of the Catherine's hospital. MK 12849.
For the first time, an exhibition sheds light on the impact of these marriages on European politics, on the domestic and social policies of the two countries as well as on their respective courts.
Room dedicated to Tsarina Maria Feodorovna. Photo: H. Zwietasch, Landesmuseum Württemberg.
The special relationship between the Romanovs and Württemberg began in 1776, when Württemberg Princess Sophie Dorothee married Russian Tsar Paul I. As Empress Maria Feodorovna, she was as actively involved in Russian charitable institutions as she was present on the stage of European power politics
Charles-Olga-Medal for services rendered to the Red Cross. AM 2289-1.
The ambitious Friederike Charlotte Marie of Wurttemberg, too, found her fortune in Russia. Under the name Elena Pavlovna, she fostered the cultural advancement of St. Petersburg and, amongst other activities, founded the Russian Red Cross.
Grand Duchess Catherine Pavlovna (1788-1819), later Queen Catherine of Württemberg. Watercolour on ivory, Vienna, 1815. © H. Zwietasch, Landesmuseum Württemberg, Stuttgart.
Maria Feodorovna's daughter Catherine and her granddaughter Olga, both remembered as noble-minded queens of Württemberg, took the hearts of the Württemberg population by storm. Even today, many local institutions continue to bear witness to their great social commitment.
Writing set of Duchess Vera Konstantinovna, Russia, c.1880. © Zwietasch, Landesmuseum Württemberg, Stuttgart.
The marriage of tempestuous Grand Duchess Vera Konstantinovna, Olga's adopted daughter, to Duke Eugen of Württemberg is a brilliant concluding chapter in the marital relations of the Russian and Württemberg royal families.
Incense holder from the propriety of Queen Catherine of Württemberg. Silver, Copper, Moscow, 1809. © Staatliche Schlösser und Gärten Baden-Württemberg, Schloss Ludwigsburg, Photo: H. Zwietasch, Landesmuseum Württemberg.
Selected art treasures from the Württemberg State Museum and high-profile Russian museums such as the Kremlin or the Pavlovsk and Peterhof imperial palaces reflect pomp, power, splendour and glory, but also homesickness, daily routine, faith and legend.
Medal on the silver wedding anniversary of King Charles and Queen Olga of Württemberg. MK 12988.
A comprehensive programme will ensure that the exhibition is a special experience for families. Children aged four to ten can embark on a discovery tour of the 'Junges Schloss' children's museum, where the interactive exhibit 'Enchanting Russia' promises fun and adventure from 5 October 2013 to 3 August 2014.
For more information please visit the museum's website.
If you are interested in modern times numismatics from Russia you should not miss our respective archive section!