[bsa_pro_ad_space id=4]
February 28, 2019 – The 1917 Imperial Russian Government 4% savings bond specimen that sold for 12,810 USD in December of 2018 is not the most expensive Russian bond in the world. Several readers responded to our call for experts and pointed out a piece that changed hands for a much a higher price.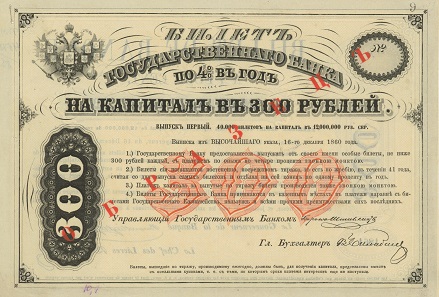 Lot 2076 sold for 20,035 euros at the 11th HWPH Auction. Photo: HWPH.
The 1861 Russian 4% bond specimen worth 300 rubles sold for 20,035 euros (including buyer's fee) at the 11th HWPH Auction on November 8, 2008. On the auction day, that equated 25,556 USD! Until then, said piece had been completely unknown among experts. That certainly made it a rarity worth its price.
More information about the HWPH Historisches Wertpapierhaus AG is available on the official website.
If you also want to submit a CoinsWeekly Coin Record, this article will tell you what information we need from you.