[bsa_pro_ad_space id=4]
September 6, 2018 – The Royal Canadian Mint has created a truly out-of-this-world collectible by adding a genuine meteorite fragment to limited edition silver coins marking the 150th anniversary of the Royal Astronomical Society of Canada. This vividly illustrated coin, unveiled at a special ceremony in Toronto attended by RASC officials and former Canadian astronaut Dave Williams.
Canada / 20 dollars / silver .999 / 31.39 g / 38 mm / Design: Alexandra Lefort / Mintage: 5,500.
"One hundred and fifty years of research, education and discovery by the Royal Astronomical Society of Canada is an engaging story to share with Canadians," said Sandra Hanington, President and CEO of the Royal Canadian Mint. "It is only fitting that RASC's many scientific achievements be recognized on a vividly coloured coin, which breaks barriers of its own by featuring a shard of a real meteorite."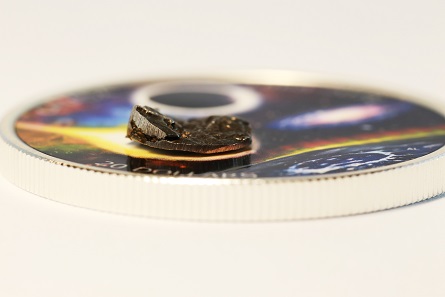 A detailed view of the genuine meteorite fragment.
Designed by Canadian artist Alexandra Lefort, the reverse design of this coin features a deep space vista enhanced by engraved textural details and full colour. Prominent design elements include the Eagle Nebula and its pillars of interstellar gas and dust, which are known as the Pillars of Creation. Also featured are the Moon, the Andromeda Galaxy (nearest to our own) and a blazing meteorite, enhanced by a genuine iron meteorite fragment from the Campo del Cielo meteorite field.
"The RSAC is excited to be celebrating our 150th anniversary with the issuance of a coin that symbolically depicts the important contributions of Canadian astronomers," said Randy Attwood, executive director of the Royal Astronomical Society of Canada.
In this video, Jamie Desrochers and Erica Maga share some behind the scenes details on the design and production of this coin.
To find out more about the coin, visit the Royal Canadian Mint website.
More information on the fascinating work of the Royal Astronomical Society of Canada is available online.