[bsa_pro_ad_space id=4]
Rarities of Highest Quality at Heidelberger Münzhandlung
Heidelberger Münzhandlung's auction 77 comprises 3,310 lots. They cover all areas of numismatics. As usual, experts will find many pieces of outstanding quality among them. Although in this auction, the numismatic focus is laid on Germany, an extensive collection of Russian coins should be able to attract numerous collectors to Heidelberg. Additionally, the second part of the 1914 Notgeld collection and an extensive selection of books on medieval and modern numismatics will be sold.
Ancient Coins
Gold is the dominating subject in the section of ancient coins, which comprises 450 lots. From rainbow cups to gold staters of the Macedonian kings Philip and Alexander, from darics to aurei and solidi: If you love the shiny luster of gold, this auction will offer you a rich selection of such pieces. Three gold multiples from Egypt stand out, namely two octodrachms of Ptolemy II for Arsinoe and an octodrachm of Ptolemy IV with the bust of Ptolemy III.
In addition to sesterces, denarii and late Roman bronzes, numerous gold coins are also to be found in the section of Roman coins. Here, many "very fine" pieces can be encountered that – due to their low estimates – are also affordable to collectors with a limited budget. However, there are also several aurei and solidi that stand out because they are in excellent conditions, of special historic importance or extremely rare. A suited example is an aureus of Antoninus Pius with a particularly beautiful portrait issued on the occasion of his fifth donation to the people.
Another example is a solidus from Trier of Constantius Gallus from the years between 351 and 354. Constantius Gallus was the elder brother of the much better-known Julian, who liked to call himself Apostate. Constantius Gallus, who resided in Antioch, was originally supposed to be the heir of Constantius II. However, he was not able to maintain his rule in Antioch. Constantius dismissed him and had him executed. This paved the way for the rule of Julian.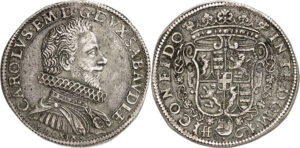 World Coins
The next section comprises about 400 lots with coins and medals from Europe and overseas. 334 of them stem from an extensive specialised collection of Russian coins and medals.
A Specialised Collection of Russian Coins and Medals
The time span of the specialised collection of Russian coins and medals offered at Heidelberger Münzhandlung covers the time from the rule of Peter I to the Russian Federation after 1991. Experts will encounter a wealth of interesting pieces, some of them in exceptional conditions. Most of them are made of silver and bronze. Gold pieces are rather rare, but they can definitely be found. The estimates are collector friendly. Most of them are in the three-digit range.
In this preview, we obviously focus on the rather rare and therefore high-priced pieces only. Be sure there are lots in the lower price range, too. At this point, we would like to draw attention to an about extremely fine rouble of Ivan III from 1741, as well as to the so-called Gangut rouble minted in 1914 on the occasion of the 200th anniversary of Russia's first big naval victory, not to forget an extremely rare 1,000 rouble gold piece from 2001 with a mintage of only 250 specimens. It features the Sedov – the world's largest traditional sailing ship that is still in operation today and that was built at the Krupp Germaniawerft.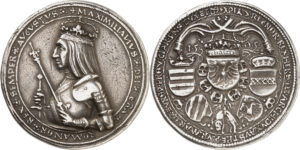 Holy Roman Empire – Austria
About 130 coins from the Habsburg Empire and Austrian ruling princely houses round off the section of world coins and medals. Lovers of Renaissance art will particularly appreciate the offer for pieces like a silver cast medal by Georg Schweigger from Nürnberg commemorating the death of Frederick III and two schauguldiner featuring the bust of Maximilian I to the left – one of the pieces was minted in 1505 with dies made by B. Burkhart, the other one was made in 1516 by U. Ursentaler.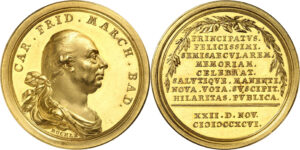 German States
Now, we get to the specialty of Heidelberger Münzhandlung: German coins. The section German States comprises almost 1,000 lots. As always, there is a particular abundance of coins and medals from the 19th century of excellent quality. But there are also numerous rarities among the coins of the pre-Napoleonic era. At this point, we would like to present some impressive examples.
Under the rule of Margrave Charles Frederick of Baden-Durlach, a medal was minted in 1796 commemorating the 50-years-jubilee of his reign taking place in 1798. It is the only known specimen made of gold – probably of Rhine-gold.
Gold Rarities from Bavaria
Among 100 lots of Bavarian coins and medals, there are some spectacular pieces – for example, an extremely rare ducat of Max Emanuel from 1687, a quintuple ducat from 1747, which is just as rare and was minted on the occasion of the marriage of Maximilian III Joseph to Maria Anna of Saxony, and a splendid and extremely rare ducat struck in 1793 from Isar gold.
This taler of George III, duke of Brzeg – a region that is today a part of Poland – is extremely rare. Although George presented himself on this coin as Duke of Silesia, Legnica and Brzeg, his actual power was far more limited: In 1553, he shared the rule of the territory with his two brothers. As a result, he did no longer have the control over Legnica. Neither did he exercise absolute power over Silesia. Since 1641, he had been "statthalter" of Silesia and thus served only as a governor to the king of Bohemia.
Let us complete this section with a splendid tenfold gulden of prince-bishop Friedrich Karl von Schönborn. He was one of the keenest builders of baroque times: He is said to have built or extensively renovated about 100 churches.
Coins of the German Empire
About 900 lots with German coins minted after 1871 prove once again that Herbert Grün, head of the Heidelberger Münzhandlung is the expert when it comes to buying or selling rarities in excellent conditions from the era of the German Empire. Thus, specialists will spot a very rare FDC 1 mark piece from 1882 minted in Darmstadt among the first numbers. A 5 pfennig piece minted in 1896 in Karlsruhe is even rarer. However, collectors have to lower their sights when it comes to the condition of the piece. The coin with expertise by Arne Kirsch is "only" graded very fine.
Lovers of coins in perfect conditions will be amazed by the extremely rare 5 marks piece from Baden struck in proof quality in 1875, and by the 3 marks piece from Württemberg minted in 1916 on the occasion of the reign's silver jubilee.
Let us round off this section with two great rarities from the area of gold coins of the German Empire:
Mecklenburg-Strelitz, 20 marks 1905, proof
Reuss, 20 marks 1875, first strike in beautiful FDC quality.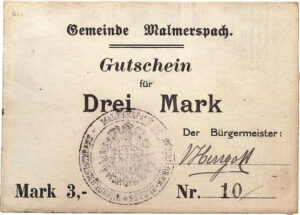 Specialised collection: Notgeld from 1914
As in auction 76, Heidelberger Münzhandlung is offering once again Notgeld banknotes from 1914. Geographically, the offer is focused on Alsace-Lorraine, Poznań and Silesia.
Furthermore, Heidelberger Münzhandlung's auction 77 contains an extensive offer of books on medieval and modern numismatics. These are almost exclusively books that are important for the identification and classification of coins.
The corresponding auction catalogue can be purchased at the price of 12.50 euros at Heidelberger Münzhandlung Herbert Grün, Gaisbergstr. 40, 69115 Heidelberg, Germany; phone: +49 / 6221 / 65 2970; fax: +49 / 6221 / 65 297-29; email: kontakt@hdmhg.de or online.
You will also find the catalogue on the auction house's website as well as on Sixbid (Part 1 and Part 2) and Numisbids.