[bsa_pro_ad_space id=4]
Rarities from Antiquity to the 20th Century
Are you a lover of coins of great stile, perfect quality and fine provenance? In that case you should certainly study the three latest catalogues of Numismatica Genevensis SA. The specialist in high-quality coins will hold their three auction sales from 15 to 16 November 2021. The offer is wide-ranging: Auction 13 offers 100 Roman gold coins – from Caesar to Constantius II. Auction 14 offers spectacular world rarities from antiquity to the 20th century, in addition to a wealth of gold coins of finest quality. Furthermore, auction 14 contains three special collections, namely gold coins of Frederick II and Charles of Anjou, issues from central Switzerland, especially from the canton of Uri, as well as gold coins from Thailand from Rama IV to Rama IX. The third auction is dedicated to the first part of the most important collection of Geneva coins ever sold at auction. The pieces are characterized by their great rarity as well as their excellent quality. Like any true collection, it does not only contain extremely rare pieces but also more common specimens, which is why estimates – and this is highly unusual for Numismatica Genevensis – start already at 20 CHF.
All three catalogues have one thing in common: they celebrate the beauty of coins and medals from all over the world. Leafing through them is an aesthetic delight.
Auction 13: 100 Roman Gold Coins
Exactly one hundred Roman gold coins will be on offer in auction 13. The spectrum ranges from the classical aureus of Julius Caesar with the head of Pietas on one side and priestly instruments on the other, to a medallion weighing two aurei, which Constantius II had minted in Antioch in the year between 347 and 350. All great emperors and empresses are there. Augustus, Nero and Hadrian, Plotina, Salonina and Galeria Valeria, Diocletian and Constantine the Great, and of course all the other lesser known and ephemeral rulers. If you are interested in the people who shaped the fate of the Roman Empire for three centuries, you will certainly find them in this auction.
Most coins are of extremely fine or better quality. And what is even more important: all coins are characterized by the excellent quality of their portraits. They bear witness to the fact that Roman mints produced true works of arts in their golden years.
Further highlights:
Lot 38: Pertinax. Aureus 193. Beautiful portrait of the finest style. FDC. Estimate: 50,000 CHF.
Lot 56: Macrinus. Aureus, 217-218. Extremely rare. Extremely fine to FDC. Estimate: 75,000 CHF.
Auction 14: World Rarities
Looking at a catalogue by Numismatica Genevensis is a real pleasure for any aesthete. All coins in it stand out by their beauty, be it a piece with an estimate in the six-digit range or a more common gold issue in the four-digit range.
So let us first take a look at the prominent coins in the section of ancient pieces. We start with a magnificent gold stater from Panticapaeum. The city was rich due to abundant grain harvests, which were mainly sold to Athens. Thus, Panticapaeum was able to afford the best engravers of its time. Today's collectors highly appreciate the beauty of their works of art – as is demonstrated by the fact that a gold stater from Panticapaeum held the record as the world's most expensive ancient gold coin for years.
If one were to ask for the most beautiful Greek coin, tetradrachms from Rhodes featuring the frontal head of the sun god Helios would be at the top of the list. Numismatica Genevensis offers a particularly spectacular piece. The tetradrachm, which was minted at the beginning of the 4th century, features an image of Helios that presents him as both a powerful and touchingly human god. It was created by one of the finest artists of the Late Classical period and impressed those in charge at Bank Leu in 1997 so much that they put it on the cover of their catalogue.
Let us finish our auction preview of ancient coins with a Roman medallion that celebrates a last Roman victory over the Persians shorty before the death of Gordian III. Shortly thereafter, the 19-year-old monarch died – we will probably never know if it he was killed by hostile Persians or if it was a political assassination.
Multiple Gold Coins
The early 17th and 18th centuries were an era of multiple gold coins. During that time, coins weighing several ducats were minted to be used as diplomatic gifts and not as means of payment for trade. They were given to powerful persons to showcase one's connections. Numismatica Genevensis is in a position to present several of these pieces.
A spectacular one is the 10fold ducat minted by Georg Friedrich von Greiffenklau as Archchancellor of the Holy Roman Empire in 1629. It is a unique specimen minted in the very year in which Georg Friedrich was authorized to enforce the Edict of Restitution, which had been decreed by Emperor Ferdinand II on 6 March 1629. It was intended to return the church properties that had been secularized by the Protestants since 1552 to the Catholic clergy. As a student of the Jesuit Collegium Germanicum in Rome and a convinced supporter of the Counter-Reformation, Georg Friedrich died in the same year, which is why he did not live to see his policies fail.
Somewhat earlier, in 1594 to be precise, the gold coin by the Salzburg bishop Wolf Dietrich von Raitenau – also a unique piece – was minted. Coins of this type are called "Turmprägung" (tower issue) due to the prominent image they feature. The bishop gave them as a gift to his troops that returned from the Turkish war in addition to their pay. In 1593, one year before this coin was created, the Long Turkish War began. The Habsburg Emperor was only able to wage it successfully thanks to the support of the imperial estates, which included the Salzburg contingent.
From Portugal stems a justo of 600 reais, minted by João II of Portugal. It takes us to the beginning of a phase of golden diplomatic gifts: it was due to the rich gold supplies from the Sudan, which flowed via Portugal into the Holy Roman Empire, that producing these coins became possible again. In 1482, João II had Elmina founded on the Gold Coast in order to import gold and slaves from there. In this way, the crown's revenues were doubled at once and Portugal became a world power. In 1494, shortly before his death, João II signed the Treaty of Tordesillas, which divided the globe between Spain and Portugal and secured Portugal's monopoly on the rich African gold mines. The proceeds of them would later be used to produce portugalesers. Therefore, our justo is a direct ancestor of the portugalesers.
Renaissance Portraits
There is a good reason why connoisseurs are particularly amazed by Renaissance portraiture. The catalogue of Numismatica Genevensis demonstrates the meticulousness with which the artists of this era created magnificent portraits that bring us closer to the princes depicted on them.
Special Collections: Medieval Sicily, Uri and Thailand
Three small, fine special collections stand out from the offer. The first one is dedicated to medieval Sicily at a time when portraiture returned to Europe. With his augustalis, Frederick II created the perfect high medieval interpretation of Roman aurei; Charles of Anjou, the murderer of the last legitimate Staufer and his successor as ruler of Sicily, continued this path with his coinage. Connoisseurs will spot eight rare augustales or half augustales and reales of both rulers in the catalogue.
The second collection focuses on issues from central Switzerland, most of them from the canton of Uri. The offer ranges from early undated coins created in the early 16th century to batzens of the canton from the 19th century. Many pieces minted in Altdorf depict St. Martin. He was the patron saint of the most important church of Altdorf, and Altdorf was not only the location of the canton's mint, it was also the main city of Uri.
The last of the three collections takes us to Thailand. It contains 24 lots with coins that were minted since King Mongkut and were inspired by western models. Mongkut – known in the West thanks to many movie adaptations of the story of Governess Anna Leonowens – published a coinage edict in 1860 that specified that Thai money was to be issued in the Western style. Although the coin press they used was from Birmingham, he chose French coins as a model.
Further highlights:
Lot 347: Italy, Sicily. Frederick II of Hohenstaufen. Augustalis, undated (1231-1250), Brindisi. Exceptional style, extremely fine. Estimate: 30,000 CHF.
Lot 501: Thailand. Mongkut (Rama IV) (1851-1565). 8 baht or tot, undated (1863), Bangkok. NGC MS64. Extremely fine +. Estimate: 4,000 CHF.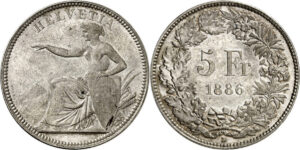 The Rarest Silver Coin of the Latin Monetary Union
A 5 franc piece of 1886 minted in Bern is the rarest coin of the Latin Monetary Union. There are only two specimens in private possession of this piece. The other three known coins are kept in Swiss museums. The coin is extremely remarkable because only very few pieces were secretly(?) produced before the obverse die broke. And since minting silver 5 franc coins was forbidden in 1886, the Swiss mint did not produce new dies.
Auction 15: Collection Geneva
Numismatica Genevensis is proud to be able to offer the most important private collection of coins from Geneva. In a first part, medieval coins of the city will be sold as well as coins struck after the Geneva Revolution of December 1792. On 17 October 1794, a new, revolutionary government adopted a coinage act stating that the écu genevois should be minted according to the decimal system based on the models of the French monetary system. Additionally, the catalogue offers issues that were minted up until Geneva joined the Confederation.
The collection is an exceptional ensemble because the collector managed to acquire rare and common pieces of exclusively perfect quality. Connoisseurs will find many coveted coins with estimates starting at only CHF 20.
Further highlights:
Lot 1156: Geneva. Copper piedfort of the half écu of 6 florins, 4 sous 6 deniers 1795 (year 4 of Equality), W (Charles Wielandy). From Galerie des Monnaies auction 12 (1970), No. 955. The only known specimen. Extremely fine. Estimate: 2,000 CHF.
Lot 1160: Geneva. Mi-décime or 5 centimes à la ruche 1794 (year 3 of Equality). From Galerie des Monnaies auction 12 (1970), No. 951. Extremely rare. Extremely fine. Estimate: 3,000 CHF.
Lot 1175: France. 5 francs, year 9 (= 1800-1801) G, Geneva. From Stroehlin auction 1 (1909), 745, depicted on pl. VI; from auction SBS Basel 4 (1975), 679. Very rare. Very fine. Estimate: 3,000 CHF.
Lot 1190: Geneva. Pattern of 42 sols 1831. Very rare. Extremely fine. Estimate: 3,000 CHF.
Lot 1209: Geneva. Pattern of 6 deniers 1819 on a 5 francs 1811 B (Rouen). Unique and unpublished. Extremely fine. Estimate: 2,000 CHF.
Lot 1215: Geneva. 10 francs in gold, 1848. Extremely fine. Estimate: 2,000 CHF.
Lot 1258: Geneva. Off-metal strike in gold of the 1 centime piece of 1839. From the Stroehlin Collection 1 (1909), No. 841; from the Virgil Brand Collection, Sotheby auction (1982), No. 540. Extremely rare. Extremely fine. Estimate: 2,000 CHF.
The catalogue can be found on the website of the auction house. Print catalogues can be ordered from Numismatica Genevensis SA, Rond-Point de Plainpalais 1, CH-1205 Genève, phone: +41 / 22 / 320 46 40, email.
The catalog as well as Live-Bidding is available through Biddr.