[bsa_pro_ad_space id=4]
Rare Ethnographic Money at Stephen Album
Stephen Album Rare Coins will hold its Auction 40 on 13th-15th May 2021 at its offices in Santa Rosa, California. The auction is made up of an even 3,100 lots of Ancient, Islamic, Chinese, General World, Ethnographic Items, and Indian Coins.
Two featured collections include The Dick Nauta Collection of Giray Khans and The Charles Opitz Collection of Ethnographic Money. The Giray Khans offerings include some extremely rare and possibly unique pieces, one of which is featured on the cover of the printed auction catalog. The Charles Opitz Collection – or rather selections from, not the entire collection – includes roughly 200 lots of rarely encountered ethnographic money. Opitz is the author of Odd and Curious Money: Descriptions and Values. Additional pieces will be offered in the subsequent auction.
As usual the sale is rounded out with a variety of offerings from across all categories and price levels. Some highlights from the sale follow:
Lot 115: Ancient. Persis Kingdom, Baydad (Bagadat). Tetradrachm, early 3rd century BC, Persepolis. Alram-515, Sunrise-560. head right, with short beard, mustache and earring, wearing kyrbasia with flaps tied behind // fire-temple of Ahura-Mazda, king standing to left, raising arms in prayer, standard to right, Aramaic text around. One scratch in the reverse field, lightly smoothed surfaces, NGC Strike 5/5, Surface 1/5, Fine Style, NGC graded Choice extremely fine. Estimate: $2,500-3,500.
Lot 607: Islamic. Giray Khans, Shahin Giray (1777-1783). 40 para (piaster, ghrush, ½ rouble), Baghcha-Saray, AH1191 year 5. A-2112, Ret-162/164var, cf. Sariev-457/460, 3rd monetary series; standard obverse (similar to Sariev-329 of the 2nd series), toughra reverse with ornate flower left & right with fancy floral sprig below the toughra, oblique reeding. Couple small scratches in upper left field on the obverse, superb strike, finest style, unknown to Sariev and apparently unpublished, lovely extremely fine, very rare. Ex Dick Nauta Collection, from our price list #57, Lot 568 (1989). – The obverse, with mint, date, and tamgha, is elegantly engraved, most notably with the "5" for regnal year slightly to the right of the first letter of "baghcha". The reverse is also superbly engraved, with two gorgeous floral objects slightly different from the selection found on the silver coins of both the second and third monetary series. This piece was likely produced from a pair of dies that failed, or was some sort of initial pattern, or struck from standard engraved dies that were only briefly used or forgotten. This is one of the most important coins of Shahin Giray that we have ever handled. Estimate: $4,000-5,000.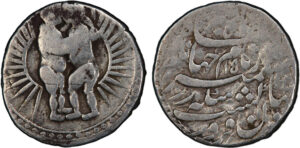 Lot 915: India. Mughal, Jahangir (1605-1628). Rupee, Kashmir, AH102(9) year 15 (1620). KM-150.8, cf. Zeno-145322, zodiac type (Gemini), struck in the month of Khurdad (May 22-June 21). twins embracing, radiate sun in background // jahan faroz gasht ba-kashmir sikkah-i-zar, za naam-i-jahangir shah shah akbar (In Kashmir, the gold coin has become world-illuminating, by the light of the name of Shah Jahangir [the son of] Shah Akbar). Edge repaired, PCGS graded very fine details, very rare. – This is the second zodiac rupee from Kashmir ever to appear in a public auction (see Spink Auction 14038, Lot 692). It was acquired by the consignor in the late 1960's from the then-head of the Afghan customs. Whitehead (NC 1931, p.91-130) knew of only 3 zodiac rupees (all Gemini) from this extremely rare mint, struck during Jahangir's visit in 1620, as well as a single Cancer mohur dated AH1034/RY.20, bearing the name of his powerful Queen, Nur Jahan. It is no secret that Jahangir was deeply in love with Kashmir, a place he adoringly called "a garden of eternal spring" in his memoir (Tuzuk-i-Jahangiri). In 1619, he would order the construction of Shalimar Bagh, his own garden of dreams, on the shore of Lake Dal in order to please Nur Jahan. It is quite likely that the emperor, known for his astrological acumen and artistic patronage, would use the zodiac rupee (a type he invented two years earlier) to commemorate this particularly meaningful visit. Estimate: $3,000-5,000.
Lot 962: India, British India. Victoria (1876-1901). ¼ rupee, 1880-C. KM-490, lovely old toning, a very rare date and nearly mint state quality. NGC graded AU58, Rare. Estimate: $6,000-8,000.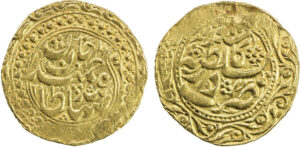 Lot 1218: China, Sinkiang. Ya'qub Beg (1865-1877) Tilla, Kashgar, AH"12″//"12″. Cr-37-3. A-O3090, NS-E16. In the name of the Ottoman sultan 'Abd al-Hamid (1876-1909), pierced and repaired (from having been mounted), dated only "12" because the engraver never completed the date, very fine. Very rare. Ex Dick Nauta Collection. – This type was first published in 1986 by Cüneyt Ölçer (weak photo and drawing, same obverse die), then later in a Baldwin's Islamic Coin Auction #13 in 2007 (illustrated as Zeno-48617, same dies), and another in one of their auctions in 2011, and finally one in our Auction 22 in 2015 (Lot 668, same dies). Assuming they are all different specimens, then this would be the 5th confirmed, though of course there may well be additional examples in Chinese collections. Estimate: $3,000-4,000.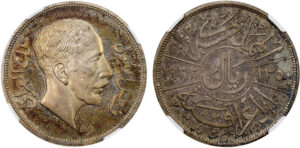 Lot 1362: World. Iraq. Faisal I (1921-1933). Riyal, 1932/AH1350. KM-101. Finest known example, proof condition, luxurious golden toning on both sides, from an estimated 20 pieces struck as proofs, NGC graded Proof 66. Only one proof example is recorded on CoinArchives, graded Proof-65 by NGC, sold at DNW Auction 128, Lot 389 (2015); the highest grade in uncirculated is MS63, two recorded on CoinArchives, the last one from our Auction #39, Lot 1337. Estimate: $10,000-15,000.
Lot 1595: World. Italy. Vittorio Emanuele III (1900-1946). Lira, 1905-R. KM-32. A fantastic quality example with semi-prooflike lustrous surfaces. NGC graded MS65+. This coin is the highest graded "top pop" by NGC and none are graded higher by PCGS. Estimate: $3,000-$3,500.
All lots of the auction can be view on Stephen Album Rare Coins' website.
The firm is now taking consignments for its Auction 41, which will be held 9th-11th September 2021. More information can be found online.