[bsa_pro_ad_space id=4]
Rare Coins Sets Own Record With High Quality Coins
Moscow-based auction house Rare Coins will be holding their 21st auction "Superb Collection of Russian, Ancient and European coins" on 5th October 2019 at 11:00 h (Moscow time). For the auction house this will be a record auction: Exactly 1000 lots will be presented of which 953 lots of Russian coins and medals, 14 European coins and 10 Ancient coins. More than 68% of the submitted lots are of the highest collectible quality: 564 lots as MS (Uncirculated) and 104 lots in collectible PROOF condition. Auction includes 22 lots of rare numismatic books and catalogs, and an antique English coin cabinet from the beginning of the 19th century.
The commission of the auction house is 15% of the lot price. Worldwide shipping is available.
Bidders can participate by telephone, proxy (absentee) bid or live via the Internet.
These are some of the highlights: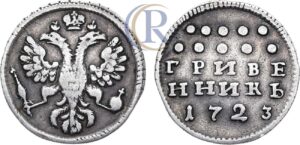 Lot 457: Grivennik 1723. Unique coin. No auction sales of the same coins have been recorded in the last 100 years. Starting price: US$ 65,000.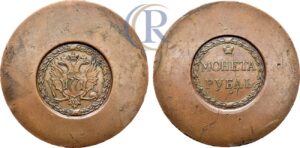 Lot 572: 1 Ruble 1771. "Sestroretsk" ruble. Pattern. Novodel. One of the rarest and most unusual coins of the Russian Empire. Starting price: US$ 60,000.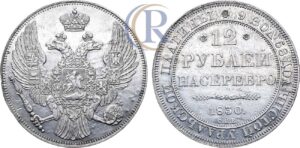 Lot 706: 12 Rubles 1830. СПБ. It belongs to the group of the rarest and most popular coins of the Russian Empire. From old French collection, from Bourgey auction, Paris, April 1973, lot 215. Starting price: US$ 38,000.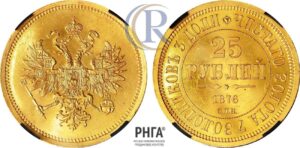 Lot 186: 25 Rubles 1876. СПБ. In slab RNGA MS 62 PL. One of the rarest donative Russian coins. With expertise signed by I.V. Shiryakov. Starting price: US$ 180,000.
Further highlights are:
Lot 847: 3 Rubles 1882. СПБ-НФ. The rarest year of coinage for this group. From Moreira collection, auction Superior Galleries, Bewerly Hills, December 1988, lot 1313. Starting price: US$ 70,000.
Lot 660: Module of Ruble 1804. From sales of doublets of Russian museums, from auction Adolph Hess #204, Frankfurt am Main, February 1931, lot 216. Starting price: US$ 5,000.
You can download the auction catalogue as PDF.
Or you browse throught the online catalogues available on Sixbid and Numisbids.
For more information on the auction and the auction house go to the Rare Coins website.