[bsa_pro_ad_space id=4]
Rare Coins Moscow Offers Russian Rarities in Superb Quality
The 22nd auction "Superb collection of Ancient, European and Russian coins" will take place on 7 December 2019 at 12 noon (Moscow time). Exactly 900 lots will be presented of which 831 lots of Russian coins and medals (292 in holders), 7 Ancient coins, 30 European coins. More than 65% of the submitted coins and medals are of the highest collectible quality: 479 lots as MS (Uncirculated) and 85 lots in collectible PROOF condition. Auction includes 31 lots of antiquarian books and rare numismatic catalogs, and coin cabinet with portrait of Russian emperor Nicholas II.
The auction has many rare coins. Top lots include a lot of classic rarities and the most mysterious objects of Russian numismatic.
The commission is 15% of the lot price. Worldwide shipping is available.
Some highlights are: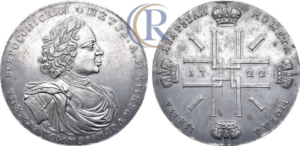 Lot 407: 2 Rubles 1722. Pattern. Novodel. One of the unusual and largest silver coins of the Russian Empire. From Sinadino collection, Christie's, London, June 1979, lot 34. Starting price: $12,000.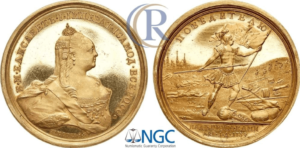 Lot 54: Medal of victory near Kunersdorf in 1759. In holder NGC MS 63*. Au. 42mm. From Grand Duke Georgiy Mikhaylovich collection, Сhristie's, London, July 1950, lot 323. Starting price: $40,000.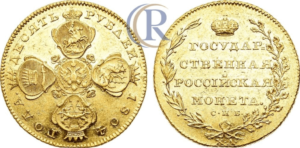 Lot 612: 10 Rubles 1804. СПБ-ХЛ. Starting price: $115,000.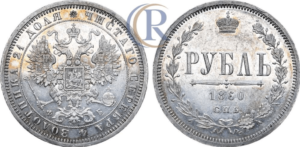 Lot 731: 1 Ruble 1860. СПБ-ФБ. Pattern. Extremely interesting and rare pattern ruble with unusual image of the eagle. From Leonid Soedermann collection. Starting price: $200,000.
Other highlights include:
Lot 50: Dukat 1753. ФЕВР:5•. In holder NGC XF 45.
Lot 650: 1 Ruble 1825. СПБ. Antiquarian copy of prince A.Trubetskoy. Paris, 1870-1880. Five samples are known in silver and three in copper. This is the third known instance and the only one engraved on the edge. With expertise signed by I.V. Shiryakov. Starting price: $70.000.
Lot 179: 10 Rubles 1888. АГ-(АГ). In holder NGC MS 66* PL. From Leonid Soedermann collection, Adolph Hess&Bank Leu #39, November 1968, lot 507. Starting price: $65.000.
Lot 219: 1 Ruble 1897. АГ-(АГ). In holder NGC PF 66 CAMEO. This coin is the only one that received the highest grade.
You can examine at all available coins on the website of Rare Coins.
There you can also download the auction catalogue.
If you don't speak Russian, it may be easier to view the lots at Numisbids or Sixbid.