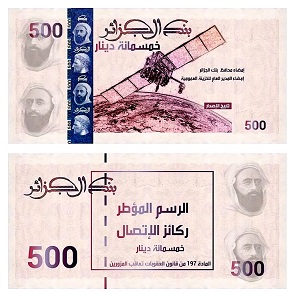 [bsa_pro_ad_space id=4]
By Michael Alexander
February 21, 2019 – The Banque d'Algérie have published proposals to issue newly designed banknotes of 500 and 1000 Dinars as well as the production and issue of a new 100 Dinar circulation coin. The information published on the country's official news service or, official Gazette (Journal number 73) released on the 28th December 2018 and detailed the creation of a new banknote series beginning with these two denominations and for the issuance of a new 100 Dinar coin to include the image of Algeria's telecommunication satellite ALCOMSAT-1. The Gazette outlined the descriptions of both notes, the subject and theme for the new 500 dinars note ($US 4.24) will be devoted to "Algeria in the era of information and communication technologies" while the theme for the re-design of the 1000 dinars note ($US 8.48) is dedicated to "Culture, tradition and modernity"
The proposed design for the new 500 dinars banknote. Photo: Banque d'Algérie.
500 Dinars – 150 / 71.7 mm. The obverse side is proposed to depict the Algerian telecommunication satellite ALCOMSAT-1 orbiting above the continent of Africa which was the first Algerian communication satellite launched on the 10th December 2017 from the Xichang Satellite Launch Center in Sichuan, China. The satellite is designed for 15 years of operational lifetime and is overseen by the Algerian Space Agency whose function is for telecommunications, television broadcasting and internet.
The new 1000 dinars banknote will feature the largest African mosque. Photo: Banque d'Algérie.
1000 Dinars – 160 / 71.7 mm. The obverse side is proposed to include an image of the Great Mosque of Algiers which is presently under construction. When this structure is completed it will be the largest in Africa, with the tallest minaret in the world at reaching a height of 265 metres or 870 feet. The complex which is close to the Bay of Algiers will also include a koranic school, a library and a museum and will have the capacity to accommodate up to 120,000 people, which be connected to a marina on the Mediterranean by two panoramic walkways.
Both versions of the banknotes will include the symbolic date of "November 1 2018" which is the 64th anniversary date of the birth of the National Liberation Front founded in 1954. The watermarks will also include the image of Emir Abdelkader. The new notes will incorporate a holographic vertical strip which includes the alternating images of the Berber king Jugurtha and that of Emir Abdelkader, (1808-1883) founder of the modern Algerian state. The new state-of-the-art notes will also incorporate additional security features and increase in length to differentiate denominations in order to assist visually impaired persons to identify the notes.
It has been reported that the new series of banknotes will in future, feature designs which will include portraits of all the heads of state of Algeria since Independence which may include the likeness of presidents Yamin Zeroual and Abdelaziz Bouteflika. Additional or future denominations in the new series will retain the watermark image of the founder of the modern Algerian state, Prince Abdul Qadir al-Jazairi or as he is known – Emir Abdelkader.
The current series of banknotes consisting of 100 to 2000 Dinars were introduced into circulation between 1995 with the 2000 Dinar note released in 2011. The new notes which are scheduled for official issue in November 2019 to co-incide with the anniversary of the outbreak of the Algerian revolution will circulate alongside the current denominations until further notice is issued by the Bank of Algeria.
The author, Michael Alexander is president of the London Banknote and Monetary Research Centre.
For additional information on the coins and banknotes issued by the Banque d'Algérie, please visit their website.