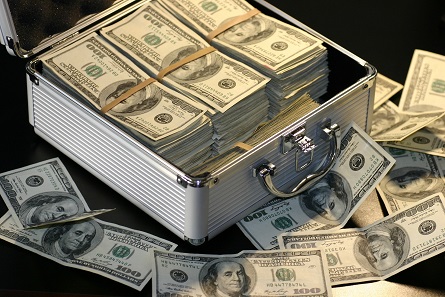 [bsa_pro_ad_space id=4]
By Leonie Schulze
August 2, 2018 – As previously reported by the American film and TV magazine "Variety", the Hong Kong-based prop makers Cheung Wai-chuen and Law Yun-lam were sentenced to four months in prison in May of 2018. They had been charged with possessing 230,000 counterfeit bank notes in 2015 already. This alleged counterfeit money had been used as a prop in movies and was labeled accordingly. The judge explained her decision by pointing to the danger of someone stealing and uttering said money.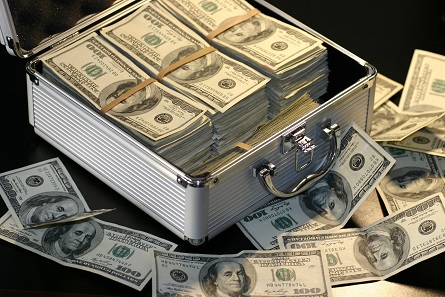 A suitcase filled with money can become precarious for a director during a film production.
"The New York Times" then published a statement issued by the HK Film Arts Association in the wake of this sentence. It was stated that this case constituted an unprecedented sentence that could not be accepted. They primarily criticized the existing legal framework containing "gray areas that make it exceedingly easy for people in the industry to become accidentally entrapped." Consequently, the film industry of Hong Kong was outraged and suspected that the Chinese government heavily influenced this decision. Hong Kong is a so-called "Special Administrative Region of China" and thus has its own legal system and independent courts. But time and again, the influence of China has become noticeable. The prop money involved in this case had been used in the 2016 thriller "Trivisa" – a movie that had won several awards but was then banned in China. It showed scenes of Chinese officials being bribed by criminals.
Three weeks after the sentence, the Hong Kong newspaper "The Standard" reported that the HK Film Arts Association had met up with the police, the Hong Kong Monetary Authority, as well as government representatives "to clarify procedures and requirements for using prop banknotes." It was agreed that anyone who wants to produce prop money in the future has to submit a proper application including samples of the banknotes. Only once the Hong Kong Monetary Authority has given their approval are prop makers allowed to reproduce the desired money. Representatives of the HK Film Arts Association are satisfied with the results of the meeting – especially the clarification and specification of the respective regulations. However, this recent agreement has not changed anything about the sentence of Cheung Wai-chuen and Law Yun-lam.
Not only in China, but in Hollywood, too, are film producers subject to suspicions of counterfeiting money. Image: Seth Cottle on Unsplash.
The international film industry has been suspected of counterfeiting bank notes for as long as movies have been made. And some of those claims have in fact been justified. Extras who had been cast for the movie "Rush Hour 2", for example, had tried to spend some of its prop money in the casinos of Las Vegas. As the CEO of the Independent Studio Services, Gregg Bilson is in charge of the majority of prop money production in Hollywood. Following the Rush Hour case, he had to destroy his entire inventory of prop money. Since then, Bilson has been using stacked slips of paper covered by a few real bank notes in his movies. He does not want to comply with the regulations stated in the Counterfeit Detection Act as they do not meet the quality standard of his movies. The 1992 law states that prop bank notes must be one-sided and considerably smaller or bigger than real ones.
You can find more information on the Hong Kong case on the websites of Variety magazine and the New York Times. The Standard reported on the meeting of filmmakers and government representatives.
In 2005, the American journalist Fred Reed published a book on the fascinating history of prop money in Hollywood. ANS Magazine has provided a detailed review.
The Bank of England offers interactive close-ups of all British banknotes and an online banknote training to help you make sure you know how to spot counterfeit banknotes. The U.S. Currency Education Program, too, helps you in determining if a banknote is genuine or not. The Currency Academy is a fun way for kids (and adults!) to learn more about the symbols, textures, colors, etc. of U.S. bank notes. And if you've ever wondered what an armadillo, a june bug, and a jelly fish have in common with U.S. dollar bills, check out this video produced by the Federal Reserve Board.