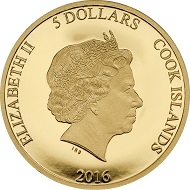 [bsa_pro_ad_space id=4]
December 1, 2016 – On the 80th birthday of Pope Francis on December 17, 2016, Coin Invest Trust has designed a gold commemorative coin in six different specifications for the Cook Islands. Manufactured with the innovative BGM© technology, each coin displays a wealth of detail on a huge, unprecedented diameter for each given weight specification.
Cook Islands. 5 Dollars 2016. 1/100 oz. 11 mm. Gold. 9999. Proof-like. Design: Coin Invest Trust. Mint: B. H. Mayer's Kunstprägeanstalt, Munich. Mintage: 10000 Pcs.
The obverse shows the Ian Rank-Broadley portrait of Elizabeth II as well as her name, the name of the issuing nation and the nominal value.
The reverse depicts the portrait of Pope Francis as well as the inscription POPE FRANCIS 80TH BIRTHDAY.
Cook Islands. 250 Dollars 2016. 1 oz. 65 mm. Gold. 9999. Proof-like. Design: Coin Invest Trust. Mint: B. H. Mayer's Kunstprägeanstalt, Munich Mintage: 999 Pcs.
Made from .9999 gold in proof-like quality, the numismatic range extends from 5 dollars at a weight of 1/100 oz and a diameter of 11 mm to 250 dollars at the weight of a full ounce and a diameter of 65 mm. Thanks to the innovative Big Gold Minting© technology all coins show a wealth of detail on an incredibly huge coin field, unprecedented for each given weight specification. For more information just view Coin Invest Trust's NewsFlash at YouTube.
Pope Francis at Casa Rosada of Buenos Aires (2015). Photo: Casa Rosada / CC BY-SA 2.0
Pope Francis
Although he was born Jorge Mario Bergoglio on December 17, 1936, in Buenos Aires in Argentina, his family's origins go back to Italy. After an apprenticeship as a chemical technologist, Bergoglio joined the Jesuit Order in 1958. He was ordained in 1969 and became the Archbishop of Buenos Aires in 1998. The appointment to cardinal followed in 2001.
On March 12, 2013, Bergoglio became the successor of Benedict XVI on the fifth ballot. He chose the programmatic name Francis after his role model Francis of Assisi. Assisi's life that he had dedicated to serving the poor became the programme of the new Pope under the motto "This is what I want, a poor church for the poor."
For more information on these coins and the various specifications available pleae visit the website of Coin Invest Trust.
More about Pope Francis will be found on his official website of the Vatican.