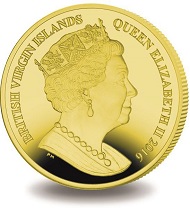 [bsa_pro_ad_space id=4]
February 11, 2016 – On behalf of the British Virgin Islands, Pobjoy Mint has released a new Yellow Titanium coin featuring the Great Lemon Shark, thus continuing their coloured Titanium series and to celebrate International Shark Week. The latest issue, with a new effigy design of Her Majesty Queen Elizabeth II, is also available in Silver and Cupro Nickel.
Great Britain / 5 Pounds / Yellow Titanium / 10.00 g / 36.10 mm / Mintage: 5,000.
The design on the coin depicts a Lemon Shark surround by a scattered shoal of fish. The obverse of the coin features an effigy of Her Majesty Queen Elizabeth II exclusively by Pobjoy Mint. The coin has been produced in Yellow Titanium and is also available in Cupro Nickel and Proof Sterling Silver.
Titanium is exceptionally difficult to strike. Because of the way the coloured Titanium reacts when struck, no Titanium coin is exactly the same. Also there is a lined effect that is present on the coins which is also unique to Titanium metal.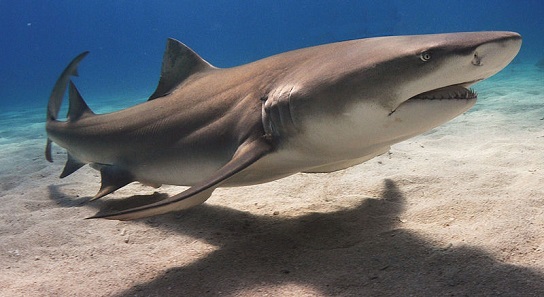 Lemon Shark. Photograph: Albert Kok / http://creativecommons.org/licenses/by-sa/3.0/
The Lemon Shark or Negaprion Brevirostris is a species of large and powerful shark often found in shallow subtropical waters. First named and described in 1868, Lemon sharks are not thought to be a large threat to humans despite their often fierce look. The shark's yellow colouring serves as a perfect camouflage when swimming over the sandy sea floor in its coastal habitat. Lemon sharks feed at night and their diet consists mainly of fish and some crustaceans.
Most people are very curious about lemon sharks due to their colour. They are basically loners but they sometimes form small groups. They have been known to attack people from time to time. It is believed this is done out of fear and not aggression. There have only been 22 reported lemon shark attacks on humans with each person surviving.
They have a magnetic sensor in their nose that allows them to attract prey and to find others to mate with. They depend on this sense of smell because they have very poor eyesight. Without that sensor they would have a very hard time surviving.
International Shark Week is an annual, week of programmes on the Discovery Channel which features shark-based shows and it was produced to raise awareness and respect for sharks worldwide. The series is now broadcast in over 72 countries and promoted on social networks in several languages.
To view this coin and other coins in the range, please visit the website of Pobjoy Mint.
If you want to learn more about the Lemon Shark, please click here.
And here you find the International Shark Week on the Discovery Channel.