[bsa_pro_ad_space id=4]
March 8, 2018 – Manta Rays are incredibly majestic creatures of the blue and as a tribute to their immense size yet graceful nature Pobjoy Mint releases an awesome coin in both Titanium and Cupro Nickel. The design shows a Manty Ray skimming above the coral covered ocean floor followed by a group of remoras. The denomination is £2.
Great Britain / 2 GBP / Titanium / 10.00gms / 36.10mm / Mintage: 7,500.
The obverse features the Pobjoy exclusive effigy design of HM Queen Elizabeth II in exceptional details. As Titanium reacts differently with every strike each of the 7,500 Titanium coins are technically different and vary slightly in colour. There is also a lined effect that is present on the coins which is unique to this metal.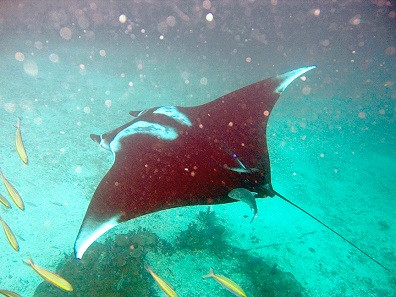 Specimen of Manta birostris. Photo: jon hanson / Wikimedia Commons / CC BY-SA 2.0
Manty Rays are found circumtropically in warm, temperate waters and are large rays with triangular pectoral fins, horn-shaped cephalic fins and gaping forward-facing mouths. They are pelagic filter feeders that consume large quantities of Zooplankton which they collect by swimming mouth-open through the water.
Manty Rays are gentle giants that, despite their huge size, (up to 7m across) pose no risk to humans. This is in contradiction to Sting Rays which can deliver a nasty sting. Humans in fact are the greatest risk to the Rays and they are now considered vulnerable due to overfishing. They often get tangled in nets as they are unable to swim backwards. Once entangled, they down due to their constant requirement of flushing oxygen rich water over their gills.
For more information on the mint and its products go to the Pobjoy Mint website.
A database of Manty Rays can be found on the website Manta Matcher.
Impressions of the Manty Ray are provided by this YouTube film.
Also on YouTube, you can watch a National Geographic movie on Andrea Marshall: Queen of the Manta Rays.