[bsa_pro_ad_space id=4]
September 24, 2015 – While Her Majesty Queen Elizabeth II quite recently celebrated becoming the Longest Reigning British Monarch, Pobjoy Mint has also reached a milestone and is celebrating its 50th Anniversary in September 2015.
2015 is very special as the Pobjoy Mint, producer of some of the most innovative and artistic collector coins (as well as circulation coins for various countries) turns 50 this year – in fact the actual anniversary was in May of this year. The story of the Mint's early days and its very establishment comes from both a family history of gold and silver craftsmanship and the mere suggestion from a family member – and coin collector that Derek Pobjoy, founder of the Pobjoy Mint should in fact look into the manufacture of coins.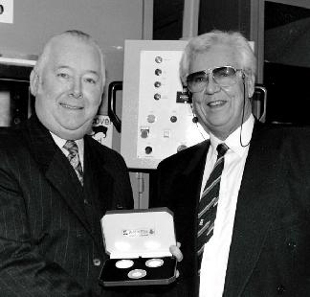 Derek Pobjoy presents the world's first Euro denominated coin examples to Donald Gelling, the-then Chief Minister of the Isle of Man in 1996. The first ever Euro coins were specially issued pieces for the Isle of Man's ever-increasing collector coin market.
Aside from the fact that Derek, the son of a jeweller, already had some interest in coins and medals stemming from the family trade of manufacturing gold and silver jewellery and object d'art. Some of the credit goes to his wife, originally from Germany and whose father was an ardent coin collector who showed his son-in-law his own extensive collection and suggested "You should look into the production of coins" taking into consideration the family's background. It didn't take Derek long to consider his father-in-law's wise suggestion – by carrying out some research into the manufacturing process, the potential market which could be generated with some creative marketing and he soon after, he purchased his first minting press.
The first years
It is prudent to mention that, for many years and as was the practise of many countries, the production of commemorative or collector coins was to be honest, in its infancy – insomuch as the issue of a commemorative coin was strictly reserved for very special occasions or national anniversaries which came around very seldom – and usually by countries with rich numismatic histories. It was Derek's belief that if a country – particularly if they are small countries who had either limited coins issued within their own authority or may been using the coins and currency of other countries, it should be possible to commemorate international events, such as the Olympics or the World Cup – especially if the country in question were also participants. Thus… the advent of the modern collector coin was born and – the Pobjoy Mint has never looked back from this ever-popular concept and which has since been replicated many times over by world mints on every continent!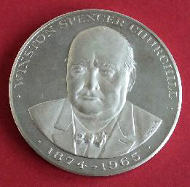 The Company's very first project, a medal dedicated to statesman and Prime Minister Winston Churchill was minted in 1965 as a memorial to the great leader.
With this idea on the table, it was necessary for the would-be Mint to launch or take off. One particular event would unexpectedly do this, just months after the incorporation of the name and function. In early 1964, the United Kingdom were discussing what and how national celebrations would take place to honour the 90th birthday of Sir Winston Churchill, war-time Prime Minister who so inspired the nation during its darkest days of fighting against the Axis powers. A world-wide personality, the former Prime Minister would be turning 90 in November of that year and it was thought that a special tribute was in order. The project of the newly formed Pobjoy Mint would be a commemorative medal produced by Derek and offered to coin and medal collectors. With designs prepared, the medal was scheduled to be available in time for the leader's birthday celebrations for November. However, announcements by the Government and the family of Sir Winston that his health was failing and that there would either be very subdued celebrations or none at all as he was simply not up to the activity. As such, it was decided to shelve the project to produce a birthday medal and look at new endeavours. With the ushering in of 1965, the sad news was broadcast to the nation that Sir Winston had died, the day was the 24th January and much of the country went into mourning.
Pobjoy Mint's second logo, in use from when the Mint moved to its new, purpose-built premises to Kingswood in 1997 until 2007 when a new logo was introduced.
What had been planned as a celebratory birthday medal had transitioned into a memorial fit for a leader who had given so much to the United Kingdom during the Second World War and Derek Pobjoy decided to go ahead with production. Within weeks after the state funeral for Sir Winston, the medal, struck in diameters of 22, 38 and 57 millimetres in sterling silver as well as a limited mintage in hallmarked 22kt. gold was launched as a tribute and very well received by many collectors who wanted something to remember Sir Winston. The medal had preceded the British 5 shilling coin by months and effectively had launched the Pobjoy Mint in a significant way.
Products on the drawing board
As many in the business world know, you can't rest on your laurels or sustain your fledgling business on just one successful project, other products and ideas need to be embarked upon. This is where Derek came back to the idea that countries – big or small can and should have their own coinage – circulation as well as commemorative and it was this concept that he began to cultivate. From the Mint's original location in the now infamous Carnaby Street, London and with a small staff made up of family members – his younger brother and younger sister also involved in the original jewellery business. Derek's younger brother who lived in Canada, agreed to set up the North American branch of the newly formed Pobjoy Mint. As the Mint's commissions and activities increased, so did the overall staff which consisted of between 10 to 20 craftsmen and artisans. As of 2015, the Mint employs up to 100 staff members including engravers, die-casters and moulders, marketing & press officers as well as production staff and those involved with specialty packaging. Their purpose built premises in Kingswood, about 20 miles from the centre of London is a sprawling compound which accommodates their assortment of minting presses and die makers, design studios, business offices, board rooms & reception rooms where some very well-known world personalities have been received.
The Isle of Man's new series of circulation coins were produced by Pobjoy Mint from 1972 – the reverse designs have changed many times, the obverse effigy of the Queen has also changed three times since 1972.
With Derek's persistence – as well as a proven track-record & good business model, he presented a workable proposal to the treasury of the Isle of Man government to begin a programme of collector coins. 1972 saw the first practical set of circulation coins for the Isle of Man minted by the Pobjoy Mint, corresponding to the same values and specifications as British coins, the set included a ½ penny to the 50 pence coins with motifs which reflected the history and culture of the small island nation. It was the first time since the reign of King George III that the population of the Isle of Man saw their distinctive three-legged "Triskele" insignia which was the chosen design for the 10 newpence coin. In 1974, the Isle of Man launched their first Pobjoy-produced crown coin in cupro-nickel and sterling silver.
The Isle of Man's first crown coin produced by Pobjoy Mint – issued in celebration of the 100th anniversary of Sir Winston Churchill, a front-facing portrait with an elaborate border and a denomination of one Crown.
Coincidentally, the coin was issued in celebration of the 100th anniversary of the birth of the very man who launched the Pobjoy Brand – that of Sir Winston Churchill. These coins were an immediate hit with collectors and the crown coin only added to the appeal of Manx coinage complete with the Arnold Machin portrait of Queen Elizabeth II on the obverse of all coins. Their design was flawless, their quality comparable to any other national mint and it was this standard of craftsmanship on every level which propelled the Pobjoy Mint into the company recognised the world over for excellence and innovation. Since then, the Isle of Man has issued an array of innovative and artistic crowns sought after by some of the choosiest collectors. One particular element of their contribution to numismatics and coin production was the development of the world's first satisfactory man-made precious metal, called Virenium. The unique metal has been successfully used in high denomination coinage since 1978. This was hailed worldwide as the first significant breakthrough in coinage this century.
Pobjoy today
It all began with just one contract to supply a small island nation with circulation and commemorative coins. Currently, the Pobjoy Mint provides circulation and/or collector coinage for 12 countries and territories but that number can double at any time as the demand for collector, circulation or bullion related coins can change instantly.

Pobjoy Mint's modern and heraldic logo was introduced in 2007 and is prominently displayed on their updated and user-friendly website.
Pobjoy Mint has been consistently recognised within the numismatic industry for the innovations and with 45 "firsts" to their credit such as the first silver one kilo coin, the first coin in the shape of the Eiffel Tower or the world's highest relief coin, they have demonstrated their ability to push the limits of the industry to surprising achievements. Under the leadership of Derek and from 1990 – Derek's daughter Taya, the Pobjoy Mint has continued to introduce innovative products and creative possibilities in all fields of minting and coin production.
Eiffel Tower Coin.
The recent acquisition of state-of-the-art laser techniques enables Pobjoy Mint to introduce designs, finishes and production results not seen previously. One particular field in which Pobjoy excels in is the minting or striking on Titanium. To date – Pobjoy are the only Mint in the world who have actually managed to strike legal tender Titanium coins because the challenge is, it is such a hard metal to work with but, the results have been impressive.
2015 and beyond
Just what are the Challenges Ahead? Well, this could be considered the 64,000 dollar question and something all Mints are examining very closely. The nature of the business is changing rapidly from trends in collector coins and the reduction of cash transactions to subjects covered and costs regarding production techniques & commodities. But, if the last 50 years is anything to go by, it is likely that Pobjoy Mint will continue to break the mould so to speak. The need to keep up with the discerning and savvy collector and investor is what has driven a once small family run enterprise into a thriving and world renowned Mint facility – still privately owned and operated.
Taya Pobjoy succeeded Derek as Managing Director in 1998. She is photographed meeting His Holiness Pope John Paul II. The Pope is presented with a coin depicting the birth of Christ produced by her family's mint which was blessed by the Holy Father.
Derek may have stepped back from the day to day running of the Mint some years ago, but he has left the task of continuing excellence in minting in the capable hands of his daughter Taya who was appointed to the post of Managing director in 1998. In Taya's own words, she recently commented "we have got to keep up with the numismatic world, keep going with innovative products and to particularly continue to look at achieving 'world firsts'". This formula has served this company well. To say that Pobjoy Mint has almost single-handedly changed the collector coin world in ways still being evaluated would be an understatement. If the last 50 years are any indication of what's in store for the industry, then I say Happy 50th Birthday to you all at Pobjoy Mint – here's to another 50 more years and beyond!
Did you know?
Which coins have been best-selling coins produced by Pobjoy Mint in terms of sale?
There have been many, but from a sales point of view, those coins would be: the Isle of Man Angel, the Isle of Man Noble, the Isle of Man Penny Black, Princess Diana memorial coins, Harry Potter, Peter Rabbit, Titanium coins come to mind!
Which well-known personalities have paid a visit to their Kingswood offices?
Baroness Thatcher, former British Prime Minister
Sir Rex Hunt, one-time Governor-General of the Falkland Islands
Buzz Aldrin, United States Air Force pilot and astronaut
Nigel Mansell, famed race car driver
Sir Roger Moore – best known as James Bond agent 007
The Hon. Alexandra Shackleton, Granddaughter of famed Antarctic explorer Sir Ernest Shackleton
Lady Soames, granddaughter of Sir Winston Churchill
Mrs Jean Schulz, wife Charles Shultz, famed cartoonist and creator of "Charlie Brown & Peanuts" comic strip
Raymond Briggs, author of the Christmas classic "The Snowman"
John Rhys-Davies, popular actor who portrayed "Gimli" in the blockbuster film Lord of the Rings
Sir Cliff Richard, British recording artist
Sir Norman Wisdom, British comedian and performer
Virginia McKenna, best known for her portrayal of Joy Adamson, featured character in the 1966 film "Born Free"
John McGuinness, TT motorcycle racer & Rider
Bruce Anstey, TT motorcycle racer & Rider
Further information on Pobjoy Mint is available at its website.
You can watch an interesting film on the history of Pobjoy Mint on YouTube.
And here you can read the article published in CoinsWeekly about Taya Pobjoy presenting Pope Francis with a commemorative coin featuring his likeness.