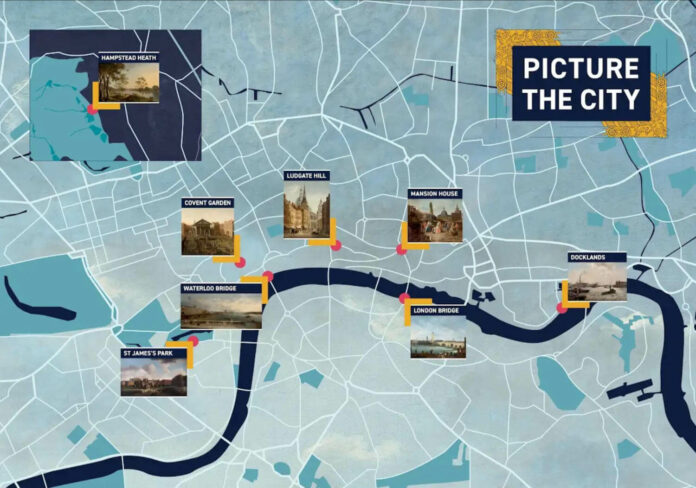 [bsa_pro_ad_space id=4]
The Bank of England Museum is taking some of the wonderful landscape paintings from its collections to the streets of London for a new exhibition that will explore the layers of history visible across the capital. Picture the City will use eight landscape views of the City from locations including London Bridge, Ludgate Hill, Waterloo Bridge and Covent Garden to show much – and how little – has changed over the last 300 years.
The exhibition is available to view online on Google Arts & Culture until 20 March 2022, but also on the streets themselves, as the Bank of England Museum uses temporary signage to bring historic scenes to the 21st century streets. Current scenes of St Paul's Cathedral, St James's Park and Hampstead Heath will merge with their historic versions, revealing the places where the past meets the present.
Visitors can also find the location through the app what3words, which gives a unique three-word address to a specific location.
The featured paintings, which have been acquired by the Bank of England over the years, include London Bridge from Pepper Alley Stairs (1766) by Herbert Pugh, The Old Stocks Market (1725-1730) by Joseph van Aken, Covent Garden (c. 1705-1710) by Jan Griffier I and Whitehall Palace and St James's Park (1676-1677) by Thomas Wyck. Locations, including the Brunel Museum, Hampstead Heath and the City of London, will host temporary exhibition signage to enable visitors to rediscover the sites depicted in the original paintings.
Bank of England Museum Curator Kirsty Parsons said: "Picture the City will use landscapes paintings to show how the economic landscape of London has changed over the past centuries. This exhibition explores how people of London have always been looking for ways to live, work and play in the city, and the ways in which our daily lives have both changed and remained the same."
The launch of this digital exhibition anticipates the Bank of England Museum's reopening its doors in spring of 2022.
Picture the City can be viewed here on Google Arts & Culture. Check out the Bank of England Museum's website for a list of where to find the signs if you want to experience the exhibition in person.