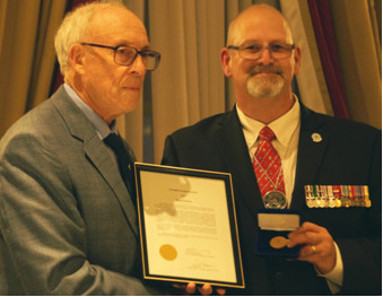 [bsa_pro_ad_space id=4]
by Steve Woodland, CD, P. Eng., FONA
September 3, 2015 – Serge Pelletier, who contributes to CoinsWeekly from time to time, received some lofty and well-deserved recognition during the awards banquet at the 62nd annual convention of the Royal Canadian Numismatic Association (RCNA) held in Halifax, Nova Scotia, on July 22-26, 2015.
Pelletier received the J. Douglas Ferguson Award, the highest numismatic honour in Canada, presented for "distinguished service to Canadian numismatics."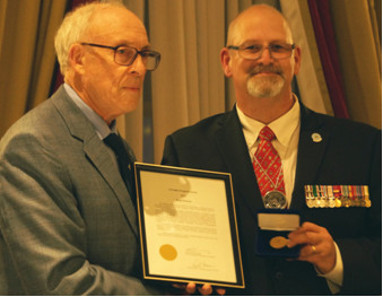 "To me, it's like joining the Canadian numismatic hall of fame," said Pelletier, who has been involved in the hobby for nearly five decades. "It's quite humbling when you read the names of previous recipients." Pelletier is referring to Canadian numismatic legends like Fred Bowman, Sheldon S. Carroll, James E. Charlton, and Jerry Remick, to name a few.

In describing Pelletier, incoming RCNA President, Henry Nienhuis, said "He's often been ahead of his time on things he has proposed, and he is among the top numismatists who have received the Ferguson Award. He fits well into that category."

Pelletier was only 19 when, in 1980, Charlton Press published his first book, a catalogue on what were then called Canadian trade dollars. The Numismatic Literary Guild called him a "youthful veteran" at the time. He has since published several other catalogues on the subject that have become "bibles" within the trade dollar collector community.

"You have also published articles in many of the leading magazines and journals on a wide range of numismatic topics," said Ron Greene, Chairman of the Award Committee who presented Pelletier with the award. Indeed, he has been a columnist for France's Monnaie Magazine since 2003, and has contributed to several other numismatic publications, including Coin World, The Numismatist, and The Australasian Coin and Banknote Magazine.

"Your work, The Canadian Dictionary of Numismatics / Le dictionnaire canadien de numismatique, is worthwhile, as is your contribution in the Royal Canadian Numismatic Association correspondence course[s]," Greene said. "It is your editorial abilities that placed you so prominently among the hobby's top numismatists."

Pelletier has served as editor of Le Numismate (for the Association des numismates francophones du Canada), winning two RCNA Best Regional Publication awards; Les monnaies (for Trajan Publishing); and most recently, moneta (for the Ottawa Numismatic Society), which won three RCNA Best Local Publication awards and three first places in the American Numismatic Association's Outstanding Local Numismatic Publication contest during its four years of publication.

Pelletier also received presidential awards for his numismatic volunteer work from both the RCNA and the American Numismatic Association during the ceremonies.
For more information take a look at the website of the Royal Canadian Numismatic Association.
Or visit Serge Pelletier's LinkedIn page.