[bsa_pro_ad_space id=4]
November 1, 2018 – Classical Numismatic Group, LLC of Lancaster, Pennsylvania and London, England, has announced that Paul Hill and Caroline Holmes have both joined the firm as of November 1st 2018. Paul and Caroline will be based out of CNG's London office, and will be working with customers and consignors to secure, catalogue, and process coins coming through the London office.
Eric McFadden, who will continue as Senior Director in London, noted that "Caroline and Paul will already be familiar faces to many of our clients who have had dealings with Spink, Baldwin's, or Sovereign Rarities over the years. Paul and Caroline are both not only top level professionals but also a pleasure to work with, and we are delighted that they will be joining us in the London office."
"The addition of Paul and Caroline brings us ever closer to the vision we have for the transition to allow Eric and Victor (England) to work almost exclusively with customers and consignors," stated Mike Gasvoda, Managing Director of CNG, LLC. "I couldn't be more pleased to make this announcement as Paul and Caroline both embody the commitment to integrity that CNG is known for, and they have a true passion for their work. They will fit into our staff seamlessly, and we are all excited to have them come on board."
Paul Hill.
Paul Hill has worked as a professional numismatist for twenty years, and specializes in classical coins from the ancient Greek, Roman and Byzantine periods and their related fields. During his career, he has managed the ancient coin departments at both Spink & Son and A.H. Baldwin & Sons, buying and selling coins, and producing catalog descriptions for fixed price lists and auction catalogs. He was responsible for securing and cataloging the legendary Prospero Collection, one of the greatest sales of ancient Greek coins ever sold at auction and which established the world record price of $3,802,500 for an ancient coin. He is a fellow and former council member of the Royal Numismatic Society, a member of the British Numismatic Society, the American Numismatic Society, and the American Numismatic Association. He holds a first class Honors Degree and a Master's Degree in Ancient History from the University of London. Paul is a regular attendee at international numismatic conventions and major auctions and welcomes enquiries from anyone interested in classical numismatics.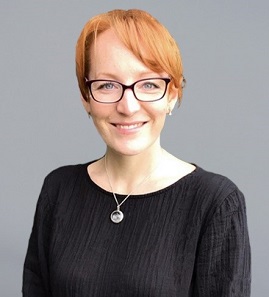 Caroline Holmes.
Caroline Holmes specializes in numismatic books and literature and has worked in the numismatic world for fifteen years. She graduated from the University of Southampton with a degree in History of Art and gained her Master's degree in the same subject from Royal Holloway University. She began her career in the coin department of Spink & Son, and while there made the transition to their numismatic book department. Caroline then went on to join A. H. Baldwin & Sons to launch a book department and during her time there developed a comprehensive stock of both second hand and antiquarian numismatic titles, while also contributing to their regularly issued fixed price lists. Caroline was responsible for the sale of the Prospero Library relating to ancient Greek coins, and more recently cataloged the extensive Ratto Family Library for auction. She attends many of the major coin fairs, both in the U.K. and overseas, and is always happy to discuss numismatics with collectors. She currently serves on the council of the British Numismatic Society.
More information on future developments at CNG is available on their website.