[bsa_pro_ad_space id=4]
May 9, 2013 – Coin Invest is continuing one of its popular series – the butterfly coins with 3D inlay. This year's coin, dedicated to the black and yellow swallowtail, is issued by the Principality of Andorra.
Andorra / 5 Diners / Silver .925 / 25 g / 38.61 mm / Mintage: 2,500.
The front of the coin features the coat of arms of Andorra, the issuing year, 2013, as well as the face value of 5 D which represents 5 diners, the currency of the Andorran collectors' coins. The reverse bears the name of the series, Papallones Exòtiques, as well as the scientific name of the butterfly to which the coin is dedicated, Papilio machaon. The image field next to it features a design of colourfully executed flowers, between which is affixed a three-dimensional inlay of the swallowtail.
Papilio machaon, the Swallowtail, is undergoing a renaissance in Europe. Although populations are declining on the British Isles, they are growing in Central Europe. The Swallowtail is among the most common butterflies in the world and is widespread not just in Europe, but also North America and Asia.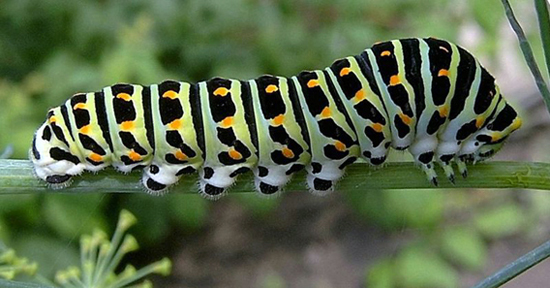 Swallowtail caterpillar.
Even the hairless caterpillars of the swallowtail display the wondrous yellow and black colouring so characteristic of the imago. It appears in three generations every year, in the spring, summer and early autumn. The flightless caterpillars are particularly reliant on protecting themselves from predators in order to survive. When they feel threatened the caterpillars evert a fleshy, forked structure on the back of their heads that secretes a foul-smelling scent to deter predators. Should this course of action prove ineffective, the caterpillars have no choice but to flee. After pupation, the pupal period begins, and at the end of this an amazing transformation takes place: A butterfly emerges from the cocoon and reveals itself in all its glory.
Papilio machaon. Photo: Lucarelli / Wikipedia. http://creativecommons.org/licenses/by-sa/3.0/deed.en
The wings of Papilio machaon typically have yellow and black markings with a red eye-spot. The hind wings have 'little tails', giving the butterfly its name. When male swallowtails search for a mate, they do so by 'hilltopping', soaring around elevated areas trying to defend the top which attracts the most females.
Coin Invest Trust has been creating an annual butterfly coin featuring an innovative 3D inlay for the past two years. This technique creates the effect of the butterfly soaring straight out of the coin and flying away. Just how much of a hit these miniature works of art are with collectors is easy to see – the previous issues for Cameroon (2011) and Tokelau (2012) are both sold out, as is the current third coin.
The coin is minted by B.H. Mayer's Kunstprägeanstalt.
Here you can watch a short video clip of a hungry swallowtail caterpillar …
… and here the complete metamorphosis.
You can learn more about the coins of the firm on the website of Coin Invest Trust.