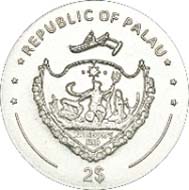 [bsa_pro_ad_space id=4]
November 3, 2011 – A new coin issue of Palau is dedicated to illusionist and escapologist Harry Houdini. The Coin Invest Trust has created a 2 dollar silver coin limited to 1,926 pieces – the mintage referring to the artist's year of death – and a 1 dollar coin in copper/nickel limited to 5,000 pieces.
Palau – 2 USD – 925 silver – 7.5 g – 22.00 mm – Mintage: 1,926.
On the reverse's left we see a three-quarter portrait of Houdini turned right; on the field's right there is his top hat releasing stars by the touch of a magic wand. Above, Houdini's name is emblazoned in the style of his time's advertisement posters together with his dates of birth and death: 1874-1926. In the exergue the year of issue is indicated: "2011".
On the obverse Palau's coat of arms shows the motto of the insular state: "Rainbow's End", above a traditional outrigger canoe is depicted. The inscription "REPUBLIC OF PALAU" is arranged in a semicircle above the motif. At the bottom of the field, the face value is indicated, 2 $ respectively 1 $.
Palau – 1 USD – CuNi – 6.5 g – 22.00 mm – Mintage: 5.000.
In 1874 Harry Houdini was born as Erik Weisz in Hungary. In 1878 the family transferred to the United States of America where Erik, aged 17, made his dream come true: He became a professional magician. In his performances onstage he vanished objects and escaped from every kind of handcuff or chain. At this time he began calling himself with his new name Harry Houdini. His thrilling performances established his reputation worldwide. Of particular fame are his handcuff acts under water or hanging on a rope outside of skycapers; he managed even to escape from a notorious "Chinese Water Torture Cell".
Also legendary became Houdini's act to vanish a full-grown elephant from the stage put on the New York Times Square.
Later in his life Houdini turned his knowledge toward other applications as well: Advising the US congress he engaged in debunking the spiritualists. These proclaimed themselves capable of communicating with a spirit world. Houdini would prove all of their sessions to be based on tricks.
On October 31, 1926 Houdini, at this time one of the most famous artists of all, died from peritonitis from a ruptured appendix.
The coins of Palau commemorate this talent of the century and his educational spirit. They are completed by a charming "Magic Box". Inside of it you will be able to vanish the coin in front of a breathless audience – and of course you may restore the coin again!
You may find more information on these coins on the site of the Coin Invest Trust.
Here you can observe the escapologist performing one of his acts.
And a video clip from 1907 shows the young man in handcuffs jumping into a river. Please click here.