[bsa_pro_ad_space id=4]
May 3, 2012 – On April 22, 2012 51 coins from a highly important gold hoard were stolen at the Landesmuseum Münster. They originate from the only medieval gold hoard, which has been found in Westphalia. It was unearthed in the center of Münster in 1956, during excavation work for a new building.
Coins from the gold hoard. Photo: Landesmuseum Münster.
Parts of this unique gold hoard were on display at a special exhibition named "Golden Glory". In the late afternoon of April 22, the attendant had seen the relevant coins in their show case. 24 hours later their disappearance was noticed. How the theft has been realized is still obscure. The show case has not been smashed, but opened non-violently.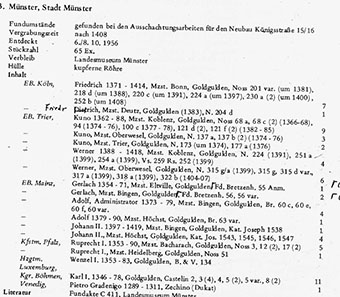 Inventory of the hoard. © Landesmuseum Münster.
51 coins have been stolen. The Numismatic Department of the Landesmuseum is missing the following coins: Cologne, Friedrich von Saarwerden 7, Mainz, Adolf von Nassau 4, Mainz, Johann von Nassau 3, Trier, Kuno von Falkenstein 10, Trier, Werner 9 (Koblenz 4, Oberwesel 5), Electoral Palatinate, Ruprecht 5, Luxemburg, Wenzel 1, Bohemia, Karl IV. 12.
There are photos, weights and the die-axis of all coins missing. If you are offered coins you suspect to originate from this theft, please contact the criminal investigation department of Münster.
A color photo of the hoard on exhibit you will find here.