[bsa_pro_ad_space id=4]
Heritage Auctions, the largest auction house founded in the United States, reported total first quarter sales for 2021 of $337,410,572, an increase of 16 percent over the same period last year. Revenue was driven by world record-breaking sales of US, World & Ancient coins, Comics & Comic Art and Sports memorabilia.
Even throughout the COVID-19 pandemic, sales show steady, year-over-year first quarter growth: from a 7 percent increase from 2019 to 2020 to this year's 16 percent increase. "This double-digit growth comes at a time when Heritage is making its most significant moves in the last 40 years," said Steve Ivy, CEO of Heritage Auctions. "The remarkable results also speak to the innovative and tireless teamwork of Heritage's employees."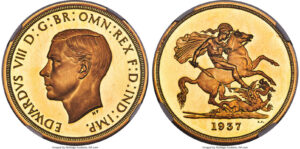 US, World & Ancient Coins
Heritage started the year setting world records among sales of US coins. In January, the firm set the world record when it sold the world's most valuable gold coin for $9,360,000. It was the finest example of the famed 1787 Brasher Doubloon, and was won by a bidder who had never before purchased a coin at auction. The Doubloon took top lot honors in the firm's 21st-25th January 2021 numismatic events which totaled more than $90.68 million. "The winner was overjoyed," said Greg Rohan, President of Heritage Auctions, who fielded the phone bid with the successful buyer of the Brasher Doubloon. "All told, the new client purchased almost $12 million in US coins."
The world's most expensive British coin, which sold for $2.28 million in March, set the high-water mark for Heritage's presentation of the Paramount Collection, a grouping of more than 700 world and ancient coins widely considered the finest offered at auction in at least a generation. The collection of world and ancient coins surpassed $41,941,592, setting world records for the most expensive coins sold from at least 12 different countries.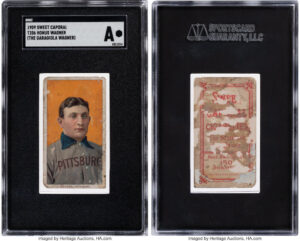 Sports Collectibles
In February, the firm's Sports collectibles category fueled $42 million in monthly sales, a record-shattering mark which included the industry's most valuable sports auction at $32.7 million. Highlights included the world record for the most expensive Michael Jordan card, which realized $1.4 million, the $2.5 million sale of a 1909 Honus Wagner card and the first Reggie Jackson cardboard to break the million-dollar mark. Heritage also holds the title as the first auction house to offer the Zion Williamson NBA Top Shot that became the first digital moment to sell at auction. The unique lot realized $162,000.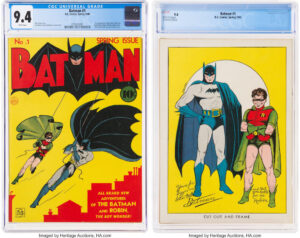 Comics & Original Comic Art
World records started rolling in at the beginning of the year, as a copy of 1940s Batman #1 sold for $2.22 million to a bidder who had never purchased a comic book at auction before. The record kicked off a four-day event, that realized $12 million, more than 50 percent above pre-sale estimates. The auction also marked the sale of a Pokémon First Edition Base Set Sealed Booster Box (Wizards of the Coast, 1999), which set a world record when it ended at $408,000.
In March, an auction of International Comic and Animation Art broke $1.57 million. The nearly sold-out auction set a world artist auction record for acclaimed award-winner Charles Burns, when his cover to 1982's RAW No. 4, Art Spiegelman and wife Francoise Mouly's beloved international comics anthology, realized $87,500.
The auction closely followed the record-setting sales in the firm's weekly auctions of Comics and Comic Art, which set a company records of $621,231 1st February 2021 and nearly $700,000 15th February 2021. The totals smashed the previous record for a weekly auction, when Heritage's weekly total reached $573,095 in March 2019.
"We've seen an ever-increasing number of bidders participating in these online auctions, resulting in near back-to-back record weekly sales," said Jim Halperin, Co-Founder of Heritage Auctions. "The market has never been better for vintage comics and comic art and we're seeing that play out week after week."
March sales set the stage to for the firm's early second quarter April 1-4 Comic & Comic Art Auction, which set the world record for the industry's largest auction of its kind with more than $16.5 million in total sales, including $3.3 million worth of vintage video games, which included the world's most expensive video game ever sold when a 1986 copy of Super Mario Bros. sold for $660,000.
Targeted Growth
Additional important, first-quarter developments include:
An increase in the number of online-bidder members from 1.2 million to 1.4 million.
Online bidders won 80 percent of the auctions by value, another record high.
The announcement that it had added Profiles in History founder Joseph Maddalena to the firm. Maddalena, who over 35 years built his auction house into the world's largest auctioneer of Hollywood memorabilia and popular culture's most coveted keepsakes was named Executive Vice President.
The February introduction of "In Focus," an ongoing, monthly series of artist-focused auctions created to strengthen Heritage's position in the Modern & Contemporary Art space. Successful sales include those dedicated to artworks by Banksy and Arsham. Also, in February, the firm broke new ground in Urban Art with RETROSPECTIVE, an online auction which handily surpassed its high estimate.
For more information regarding Heritage Auctions' 41 categories of fine art and collectibles as well as its full auction calendar, visit their website.
Heritage Auctions has also recorded a growth in the Pandemic Year 2020.